Running a business is both rewarding and challenging. Often at the same time. One of the major challenges that we hear about from our users is that of time-constraints. The age-old cliche that there really aren't enough hours in a day couldn't be more true for most entrepreneurs.
If your business involves creating, marketing, selling and shipping products, you might find that time spent on things like creating invoices and delivery notes is time that you would like to save. That's where invoicing software can change things in a moment (because it only takes a moment!).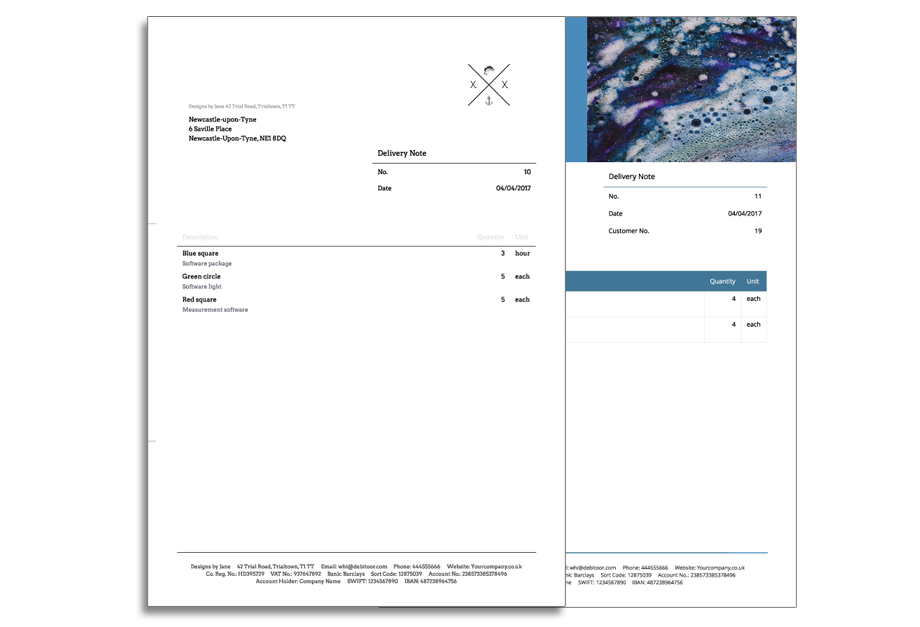 When to create a delivery note
A delivery note accompanies a shipment of goods. It serves as an additional document that isn't required, but can serve to provide an extra level of communication and confirmation with your customer.
Unlike an invoice or quote, a delivery note is not sent independently, nor does it typically include the prices. Instead, it is a list and description of the goods contained in the particular shipment.
This does not include any goods that are in the order but are not physically present in the shipment that the delivery note accompanies. If different goods from the same order come in separate shipments, then a delivery note should accompany each, listing only the goods in that particular shipment.
Creating a delivery note in Debitoor
In Debitoor, we've made it easy to create delivery notes. Not only can you save customers and products to allow you to add them quickly and easily to your delivery note, just as with a new invoice, your delivery notes are also just as customisable as your invoices.
A useful feature when it comes to delivery notes is the 'Options' tab that you can find by clicking the '...More' button at the top of a newly saved delivery note. Select 'Change Design', then click on the 'Options' at the left to select and/or deselect certain elements that appear on your delivery note (such as prices and units, for example).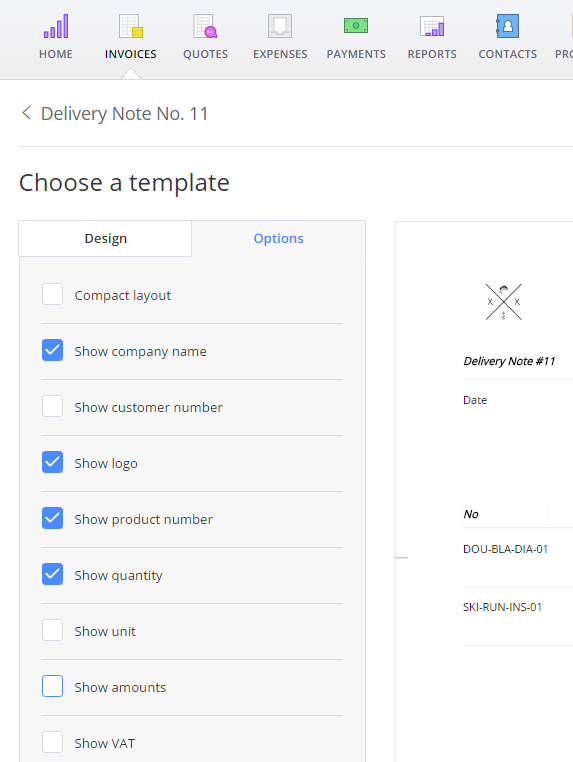 Once your delivery note is looking exactly as you'd like it, download or print it to include with your order. It's that fast and simple. You can also copy previous delivery notes, and the number and date will be automatically updated.
More about delivery notes
Want to learn more about what should be included in a delivery note? Check out our dictionary entry 'delivery notes' and give it a try. Debitoor delivery notes are just as fast and simple as our invoice templates, helping save you time and frustration.