The recent introduction of the GDPR for countries operating within the EU means that online businesses that collect any personal data from users or visitors to their website must make this data available to the user to which it belongs.
For Debitoor accounting & invoicing software, no big change was needed. For each user, we make it easy to download the data you have securely within your account.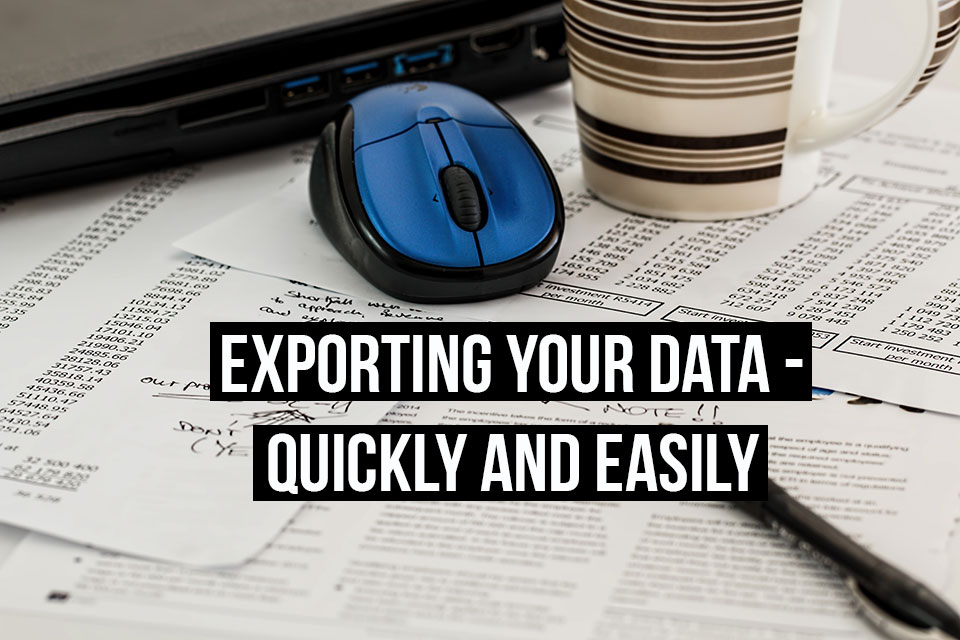 What data can you export?
The information you've entered in your account is easily exportable with just a few clicks thanks to Debitoor's easy export function. This means it takes only moments to download an Excel or .csv format file detailing the data set you've selected. Choose from:
Invoices: this will download a list of your invoices for your selected date range. Include the download of PDFs of each invoice by selecting the 'Include attachments' box.
Invoice lines: this breaks down item lines in the invoices for the time period selected, including different VAT rates and more.
Credit notes: similar to invoices, download a list of all credit notes issued from your account including the date, number, customer, etc.
Credit note lines: a more detailed list of your credit notes. Like invoice lines, this provides a breakdown of the products or service listed on the credit notes.
Other Income: any income that you have registered that cannot or has not yet been linked to an invoice but should be recorded for financial purposes.
Expenses: a list of all the items or services you have registered in your account as an expense.
Payments: this will export a list of the payments that you have entered, both incoming and outgoing, found under your 'Banking' tab.
Customers: a full list of the saved customers within your account.
Products: the products or services that you've saved to your account for easy addition to invoices, quotes, delivery notes, etc.
Quotes: your quotations in list form like invoices or credit notes.
Delivery notes: a full list of any delivery notes you've created, like quotes, invoices, etc.
These options are all related to the data stored securely within your account and are only available to you, unless you invite your accountant to collaborate on your account so that they can quickly export the information they need.
When and why to export your data
Many users choose to export data in order to share it with their accountant when it comes time for tax filing or in the case that the accountant requests it.
Some users also prefer to periodically download lists of their data to save on their hard drive, however for security purposes, the cloud is a safer and more secure option.
It might also be useful to export certain data for use in certain financial situations such as budgeting, campaign planning, and more.
How to export your data
As mentioned above, downloading all of this data from your account takes moments. You can choose the format and then start the download.
You'll find the export option by clicking on 'Settings' in the upper right corner, selecting 'Settings' from the drop down menu, and clicking on the 'Account' tab. Scrolling down, you will see the 'Export Data' section and can select the data to be exported as well as set a date range for some of the options.

A step-by-step tutorial for exporting data is available, complete with screenshots to provide a visual guide for downloading the data you need. Find it in our tutorial: 'How to export your data'.