When you're a designer, no matter what field, the aesthetic of your brand is inevitably an important one. And yet when it comes to the business side of things, you might be willing to put up with more simple, dry designs in order to get the paperwork out of the way and focus on what you enjoy.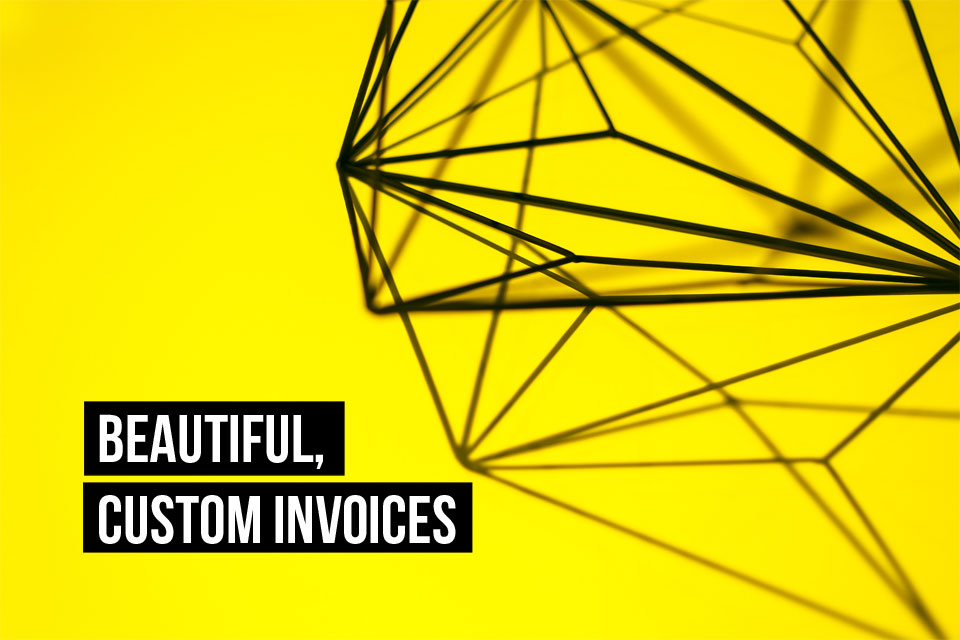 It doesn't need to be that way. You don't need to compromise creativity for professionalism when it comes to your sales documents. There are many solutions today that enable you to easily, quickly create and send invoices that reflect your abilities and business.
Let's take a closer look at what that means.
Create custom invoices
Googling and downloading an invoice template that you can update a bit to show your logo is a quick and easy way to start invoicing. After all, the important part is getting paid and getting more business (and having time to do quality work instead of wasting time on invoicing).
However, is it the best way?
Word and Excel invoices
The old fall-back. Word and Excel are great programs. But for invoicing? While you can save and update your own template, Word and Excel invoice templates require you to replace each field manually, increasing the risk of mistakes.
In addition, keeping these invoices organised in your computer can easily get a bit tricky. When was a particular invoice paid? Did that customer pay only partially, or did they request a refund?
Your company details
Your invoices should allow your customers to link instantly with your business. There should be no doubts about who the invoice is from. For this, your company details are a crucial part of the invoice. Not to mention a memorable logo.
Ensuring your logo and details look good on your invoice seems like an obvious rule. But how many times have you struggled with seemingly invisible Word or Excel rules when it comes to adding pictures or backgrounds.
Invoice design templates
As a designer, you want options but with invoicing, maybe the easier and faster, the better. It is possible to achieve a great-looking, custom, professional invoice each time that expresses your unique brand.
But spending time on designing invoices is the last thing you want to do when you can instead be focusing on finding new customers and new jobs. Invoicing software like Debitoor gives you the tools to create a custom, professional invoice, with invoice templates to help your brand come through - set them up once and create invoices in less than 1-minute.
With these templates, you can create a full-banner design for a standout invoice: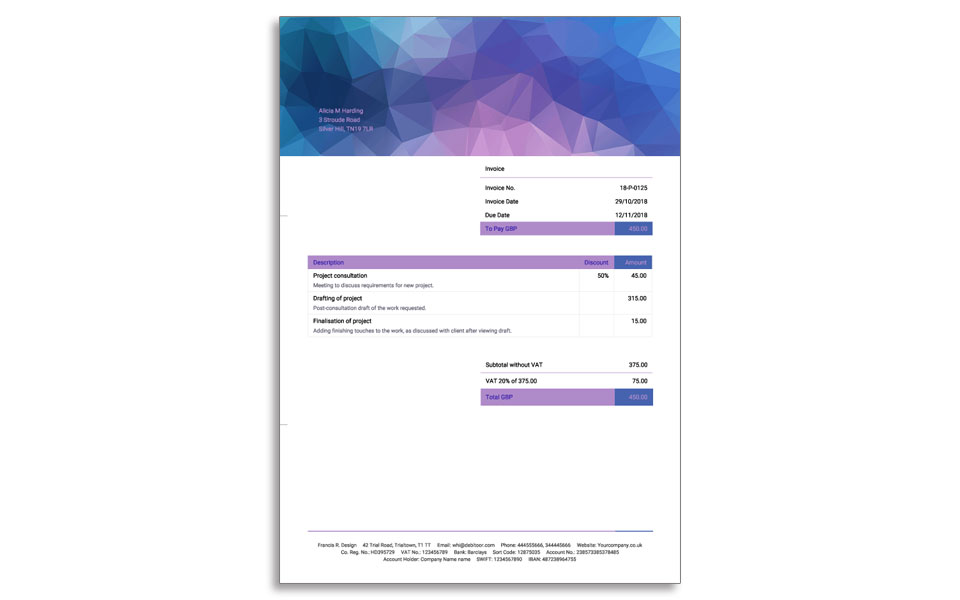 Or go a little more subtle still with a pop of colour: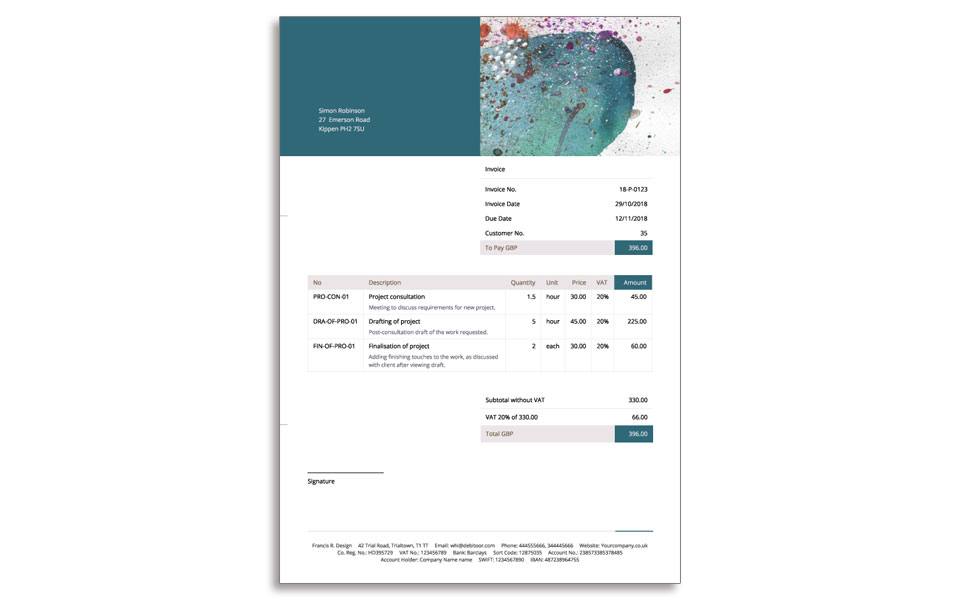 Or let your logo do the talking and keep it clean and clear: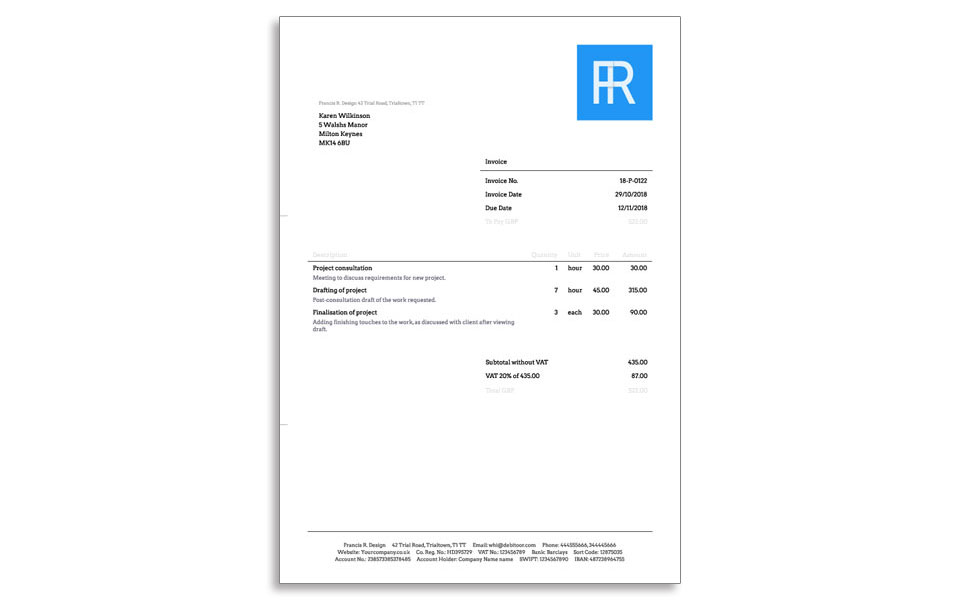 It's up to you! With Debitoor, you can set up your template once (and change it anytime) and from then on, creating an invoice is a matter of a few clicks.
Automation to save time on invoicing
How can you create an invoice in less than 1 minute? Once you have your template chosen and customised, you can also quickly save customer and service details that can be selected from a dropdown menu.
If you have a standard rate, you can save this to your profile and by selecting it when creating a new invoice, the rest is autofilled - the subtotals, any tax, any discounts (if you choose to apply them) and the totals. All calculated automatically.
The right invoice software
As you may have gathered, the key to easy, fast, and professional invoicing is good invoicing software. This not only makes it as easy as possible for you to create and send invoices without compromising design and customisation, but also gives you the tools to run your business easily, from anywhere.
Because Debitoor is 100% cloud-based, it's possible to access your account and create invoices as long as you have an internet connection. Stay on top of your business no matter where you are.