When you're managing your invoicing and accounting, it can be irritating if your workflow is interrupted – particularly if you get stuck with an error message that you can't get rid of.
This article takes a look at some of the most common error messages that appear in Debitoor invoicing software and explains what you can do to fix them.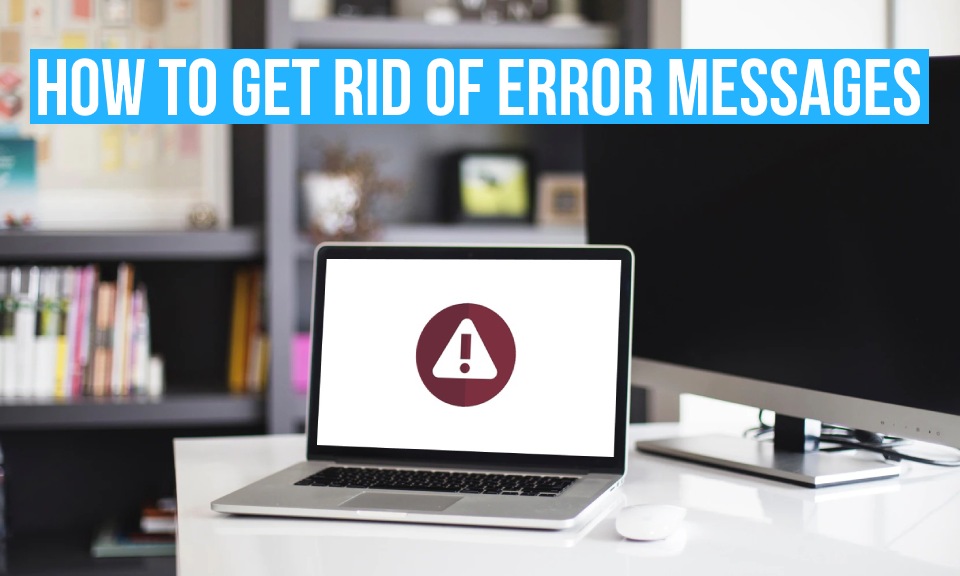 'Unfortunately, we could not deliver [document] to [email address]'
You might get this notification about invoices, quotes, or proforma invoices. If you receive a notification telling you that a document couldn't be delivered, it's most likely because you entered an incorrect email address.
To fix this, check for any typos, and if you still can't send the document, follow up with your customer to check whether they've given you the right email address.
'Please add at least one product'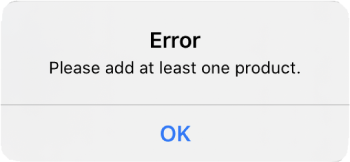 If you're using the Debitoor iOS app or the Debitoor Android app, you might come across an error message that tells you to add at least one product.
This error message probably occurs because you have an empty invoice line. To get rid of the message, simply delete this line. You can do this by swiping left on the empty line, then tapping on the rubbish bin icon.
'[Contact or document] is not synchronised'
Another fairly common error message in the mobile app, you might see this when you try to edit a contact (i.e. a supplier or customer) or a document (i.e. an invoice, quote, or proforma invoice)
When you get this message, it comes with an explanation that states 'It's likely this occurred because you previously edited this customer from another device'. Debitoor runs in the cloud, and your data should automatically sync across all of your devices. But from time to time, there might be a slight delay.
To force your devices to sync, open the mobile app, tap on the list of customers/invoices/quotes/etc., then drag down. This will reload the page. If this doesn't work, try the classic log-out-and-back-in technique. When you log back in, your data should sync correctly.
'The invoice can't be edited'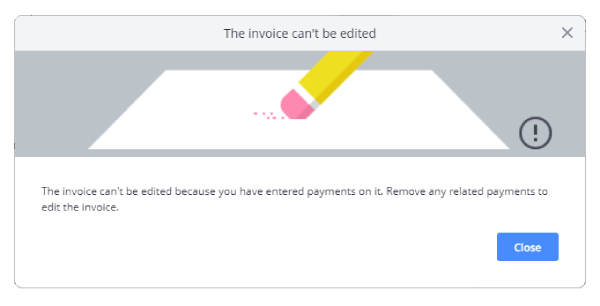 This isn't technically an error – if you've already matched an invoice with a payment, you shouldn't be able to make changes to that invoice. Nonetheless, it can be frustrating if you can't get past this message.
Rather than editing a 'Paid' invoice, you either need to remove the payment or create a credit note. Whether you should remove a payment or create a credit note depends on which country you're based in and why you want to edit the invoice – for a more detailed explanation, check out our blog post about editing an invoice marked as paid.
'Something went wrong, please try again'
This article has explained some of the most common specific error messages in Debitoor, but you might also come across more generic error messages such as 'Something went wrong, please try again' or 'Oh no, something went wrong on the server. Please contact Support'.
You could get this message for a number of different reasons: there could be an issue with your web browser or internet connection, or there might be a small bug that needs fixing. If you see one of these error messages, there are a couple of steps you can take to resolve them.
If you're using our mobile app, you should check whether you're using the latest version. If not, update your app from either the Apple App Store or the Google Play Store
If you're using our web app, you can try resetting your cache. A cache stores pieces of information from web pages, making it quicker for pages to load when you next visit. Clearing your cache simply removes any saved information, allowing you to load a fresh page.
If this still doesn't work, you should try using a different device or web browser. Some bugs and issues are specific to certain browsers – and you're particularly likely to come across errors if you're using an outdated browser such as Internet Explorer, which has been replaced by Edge. Debitoor invoicing software supports a number of different web browsers, but we usually recommend that our users try Google Chrome.
What to do if you still can't get rid of an error message in Debitoor invoicing software
If you still can't get rid of an error message, you can always reach out to our customer support team through the in-app chat or at team@debitoor.com. We're more than happy to help you look into any error messages you get.