Many people do not realise the amount of work it takes to be a musician. Years of perfecting your instrument, days memorising lyrics, hours of practising new songs, and endless competition in cities, can make it difficult for new musicians to get regular gigs, and get their business going. As a musician myself, I hear you, and I'm here to help!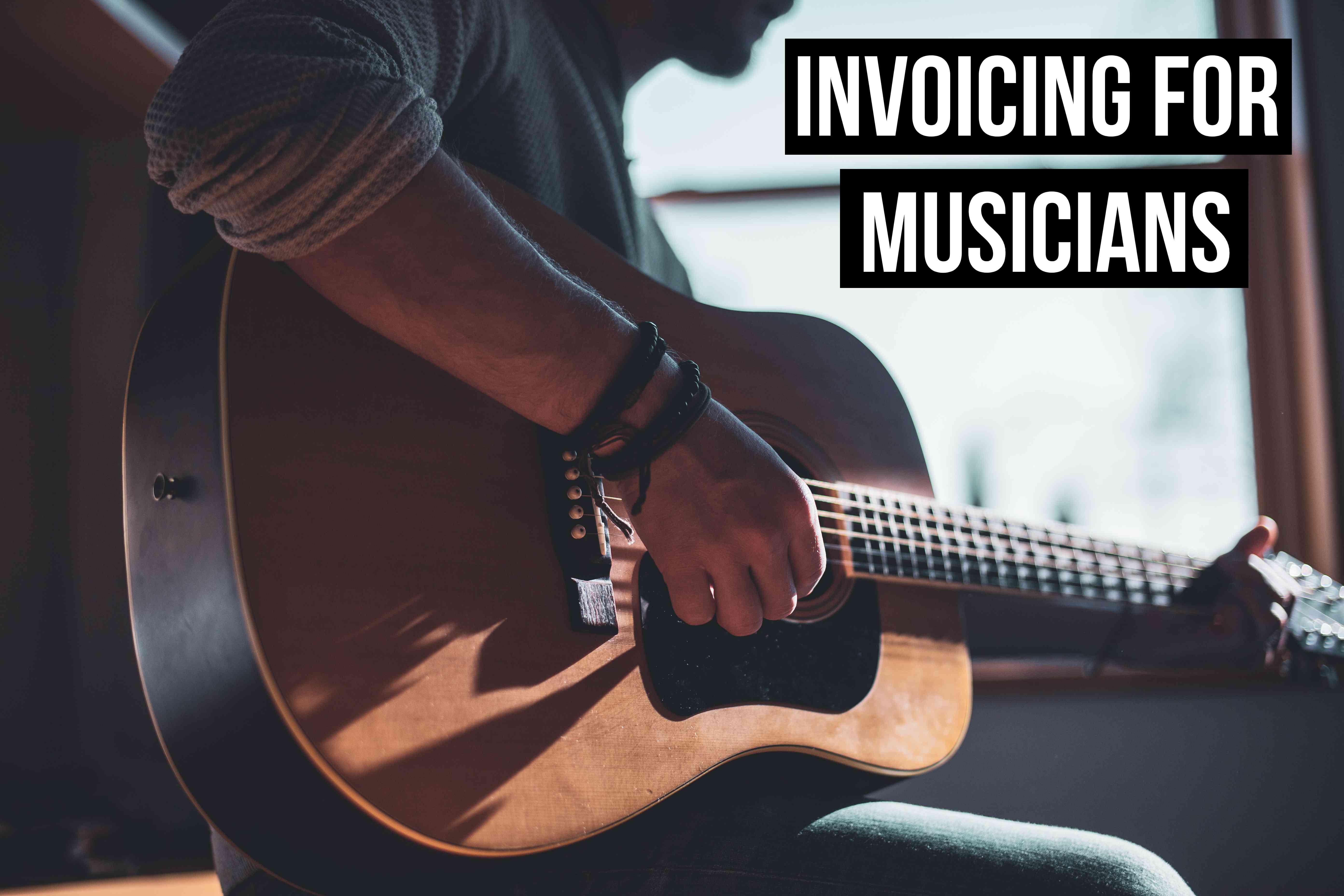 It's one thing to have a passion for music. It's another to make a living as a musician! If you are a musician in a new city, or in the early stages of getting started, it can be quite daunting to be in charge of all your bookings and finances, especially if you are a solo musician!
Invoicing and accounting software can make your life a lot easier whether you're a freelance solo musician who plays weekend gigs or an orchestra playing concerts around the world.
Use an invoicing software or app
Technically, freelancers are considered to be self-employed, so if you earn income as a freelancer you must file your taxes as a business owner. With Debitoor, we make invoicing and accounting for freelancers and small business owners extremely simple.
Let's say you're driving in your bandmobile on the way to a gig and need to stop for gas. You can easily snap a picture of the receipt on the Debitoor app and mark it as an expense. Easy as 1-2-3!
Maybe you need to buy new guitar strings, a lead, or a brand new kazoo? Again, just take a picture of the receipt in the app! The app has special OCR technology (optical character recognition) that can detect and autofill the details from the receipt into the system, saving you precious time.
You can claim anything as an expense that is used 'wholly and exclusively' for your business. Travelling in your own car, or flying to a gig in a different city can usually be claimed. As can smaller things like drumsticks or cables.
If you need to send a quote or invoice to a venue or bar, it is easy to customise your invoices and send them through invoicing software. You can even add your bank details and band logo! You can make your invoices and quotes as beautiful or hardcore as your music.
Invoicing for musicians
When you are issuing invoices to your clients, it is important that you meet the standard legal requirements for any invoice. Each invoice should include the following:
Your name/registered business name and address details
The customer's name and address details
Unique invoice number
The date of invoice issuance, and the date of purchase
Description of product or service
The price and VAT (if you are VAT registered)
The total amount owed
With Debitoor, you won't have to worry about all of the specifics, as we ensure that you have all of the necessary details on every invoice you send. :)
As travel is a huge part of the musician life, Debitoor invoices allow you to easily change your language and currency if you're invoicing in London, Paris, or New York.
Example of customised musician invoice
Invoicing software makes it quick and easy to create a customised invoice. With Debitoor, you can create your first invoice in under a minute, and choose from several invoice templates.
Here is an example of a customised musician invoice: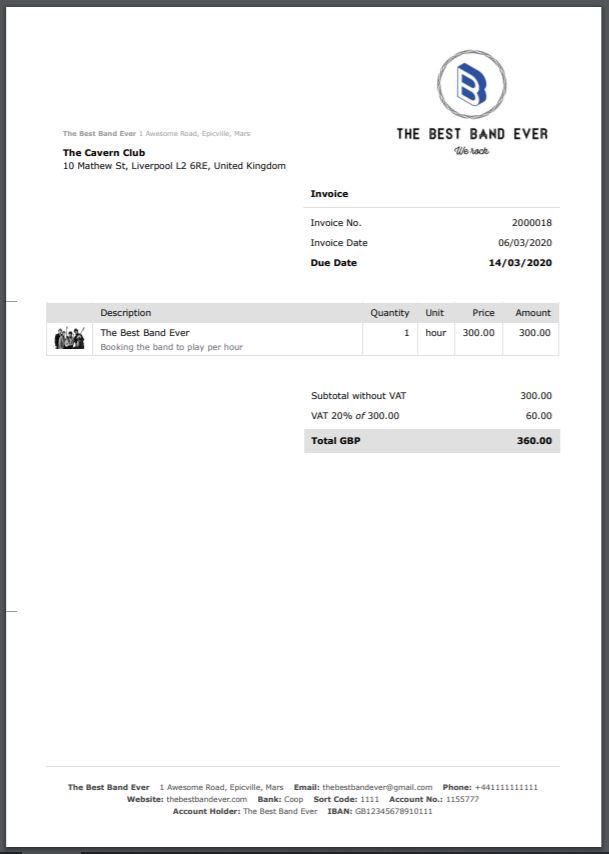 Accept payments on the spot with Debitoor
With Debitoor, you can easily integrate a SumUp card reader or other payment provider such as PayPal. By integrating a SumUp account with Debitoor, you can easily import all sales transactions from SumUp into your Debitoor account. The biggest advantages of this integration are the automatic import and matching of your income and expenses, as well as the automatic registration of all transaction fees.
For example, let's say you have a gig in a town 3 hours away. You can:
Create and send a customised invoice to the venue in advance.
Take a picture of your receipt for gas and mark it as an expense in the app.
Once you have performed, you can use the card reader to accept payment from the venue.
Everything will be automatically recorded in the software, and you will receive your payment in your bank account in 1-3 days.
Whether you're on the road and using the Debitoor app, or doing gigs at your local pub and using the online platform, Debitoor will save you loads of time and stress. Don't take my word for it, give it a try yourself with a 7-day free trial! All the best with your music career!