If you choose to invest in invoicing software, you'll want to always be able to use to it, no matter where you are. Luckily, invoicing software such as Debitoor runs in the cloud, meaning that it's always easy to access your data, issue invoices, create expenses, and follow up on late payments without needing your computer.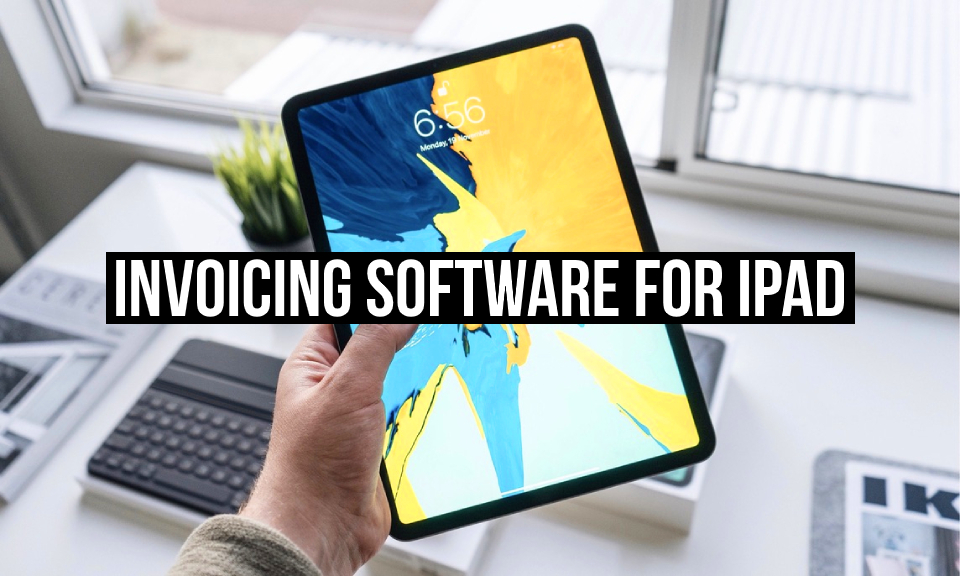 Perhaps one of the best tools to invest in if you run a business that demands a lot of travel is an iPad. Whilst it may be overlooked as a glorified smartphone, the iPad offers an array of possibilities that can help you to manage your business. Here, we take a look at how an iPad can support your business and your invoicing needs.
Using an iPad for business
An iPad is a great investment for those who run a business that demands a lot of travel. It's lightweight, has a long-lasting battery that can keep you going all day, and can even transform into a mini laptop with accessories such as an apple smart keyboard.
With its large screen, an iPad makes it easier for you to view emails, surf the web and manage client meetings via video conferencing. It also offers numerous productivity apps that you can download to make your business run more smoothly.
Productivity
Explained in simple terms, productivity apps refer to apps that help us to produce information, information that we can then put to some use. Common examples include product suites, such as Microsoft Office which offers Word and PowerPoint etc., or Apple's own alternatives. 'Productivity' can also refer to individual apps such as Debitoor invoicing software.
If you use an iPad, you can download all of the productivity apps you need to run your business, and switch between them in a matter of seconds. It's possible for example to use the Debitoor iOS app alongside additional integrations on the market.
For example, you may also choose to use Jephi, a time tracking app that can help you keep on top of projects, working hours, and inform customers of progress. It's easy to then convert recorded hours into invoices and import this data into your Debitoor account.
Using your invoicing software on an iPad
Of course, one of the most important things when running your own business is getting paid for your work. Debitoor invoicing software will help you complete this final step and you may find yourself using Debitoor on an iPad. The following explores how the Debitoor iOS app works on an iPad and how you can get the most out of the different features it offers.
The mobile app is designed to be as simple and effective as possible and there are three key things that you're probably most likely to use it for. These are:
To create these documents, all you have to do as soon as you open the app is to tap the '+' button in the top right corner and select what you would like to create.
Creating a new invoice on your iPad
Once you've opened the invoice template, simply fill in the information about the products you're providing. To do this, tap on 'Invoice Lines' and either select from products you have already saved, or fill in the information from scratch. You will then have the option to add this new product to your product list if you wish. When you're ready, click 'Done'. If there are multiple products to add, just tap '+ Add Line' and repeat the process.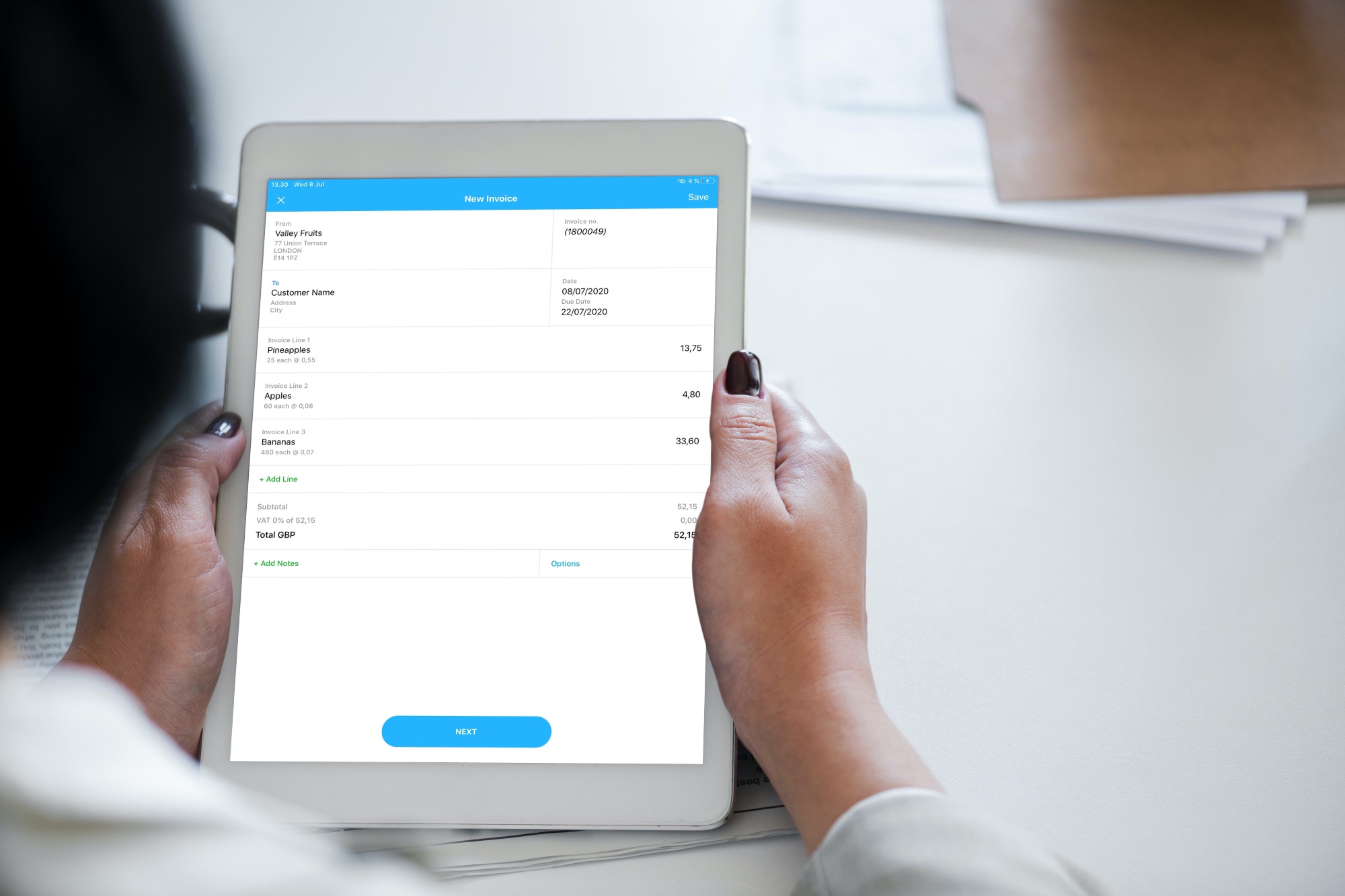 Once all of your information is added, click the blue button 'Next'. Here, you can choose to 'Preview' your invoice and see how your design looks. If you want, you can always click 'Design' to change the invoice's style to something else.
When you're ready, you can send the invoice to your customer. You can choose to manually type an email address, or you can click '+' and select one of your customers you have saved in the system. When you're ready, slide the '>' across 'Send Invoice' to complete your document and send it to your customer.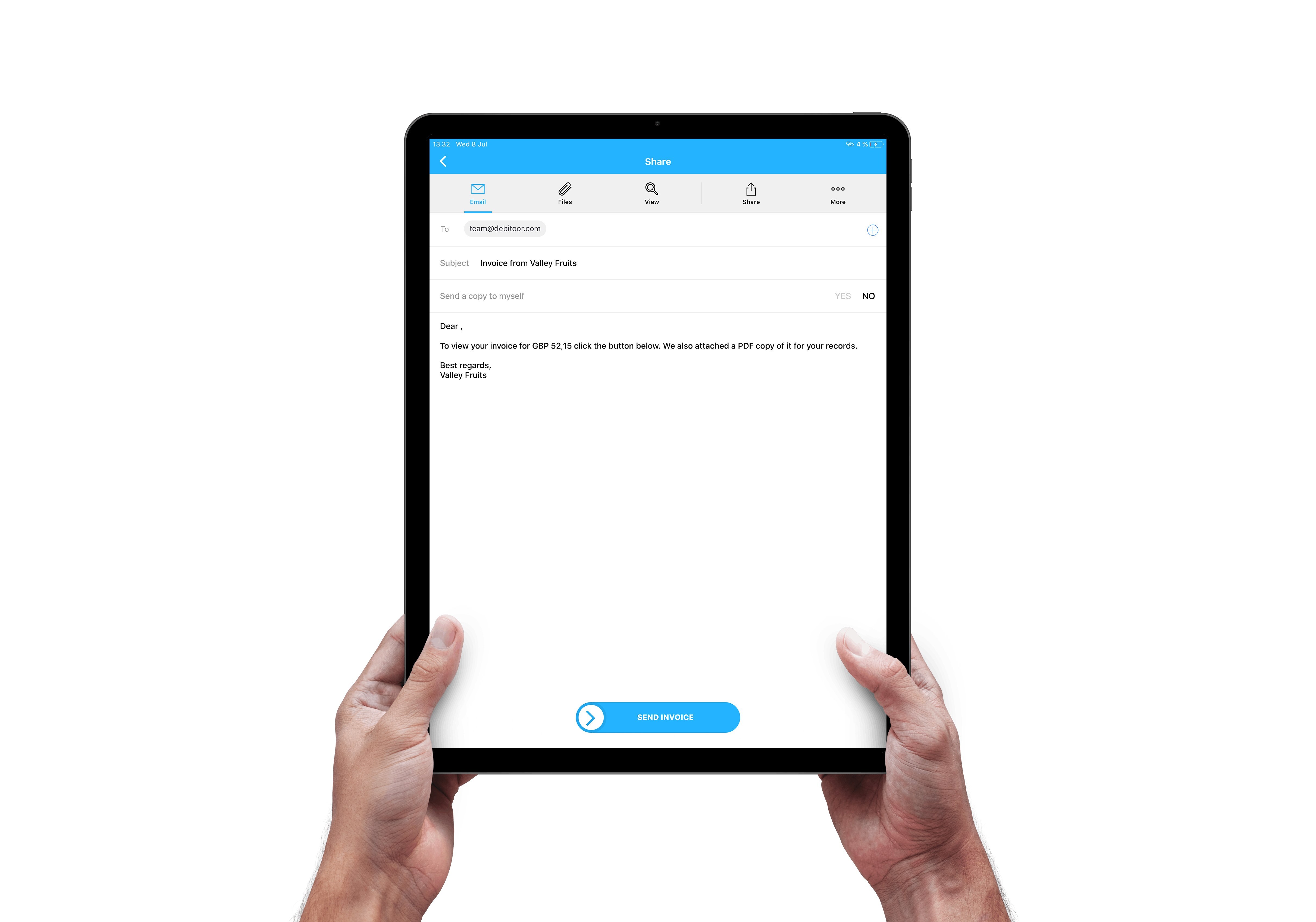 Creating a new quote on your iPad
Creating a quote on your iPad is just as easy. Tap 'More' the bottom right corner and then select 'Quotes'. Then click '+' and fill in the necessary information in the same way as you would for an invoice.
Creating a new expense on your iPad
To add an expense, again click '+' and select 'New Expense'. By clicking 'Add Line', you can fill in the details about your expense and select a category to assign it to. If you're using an iPad, you can click 'Attach Receipt' and then use your camera to add documentation immediately.
Using the web app vs. the mobile app
It's important to remember that Debitoor's mobile app provides a more condensed version of the web app. There are a few features, such as delivery notes, that are only viable via the web app. These are omitted from the mobile version so as to provide a more friendly and simple user experience when working on a mobile device.
But there may be a time when you need access to these features. This is when an iPad comes in handy: simply log in to the Debitoor web app via safari and enjoy all of the features Debitoor has to offer. And thanks to the iPad's larger screen size, you won't find navigation difficult.
Of course, it's possible to change the invoice design using the mobile app. However, for more complex corrections such as changing colours, your logo or the font, you will need to log into the web app instead, via your iPad's browser.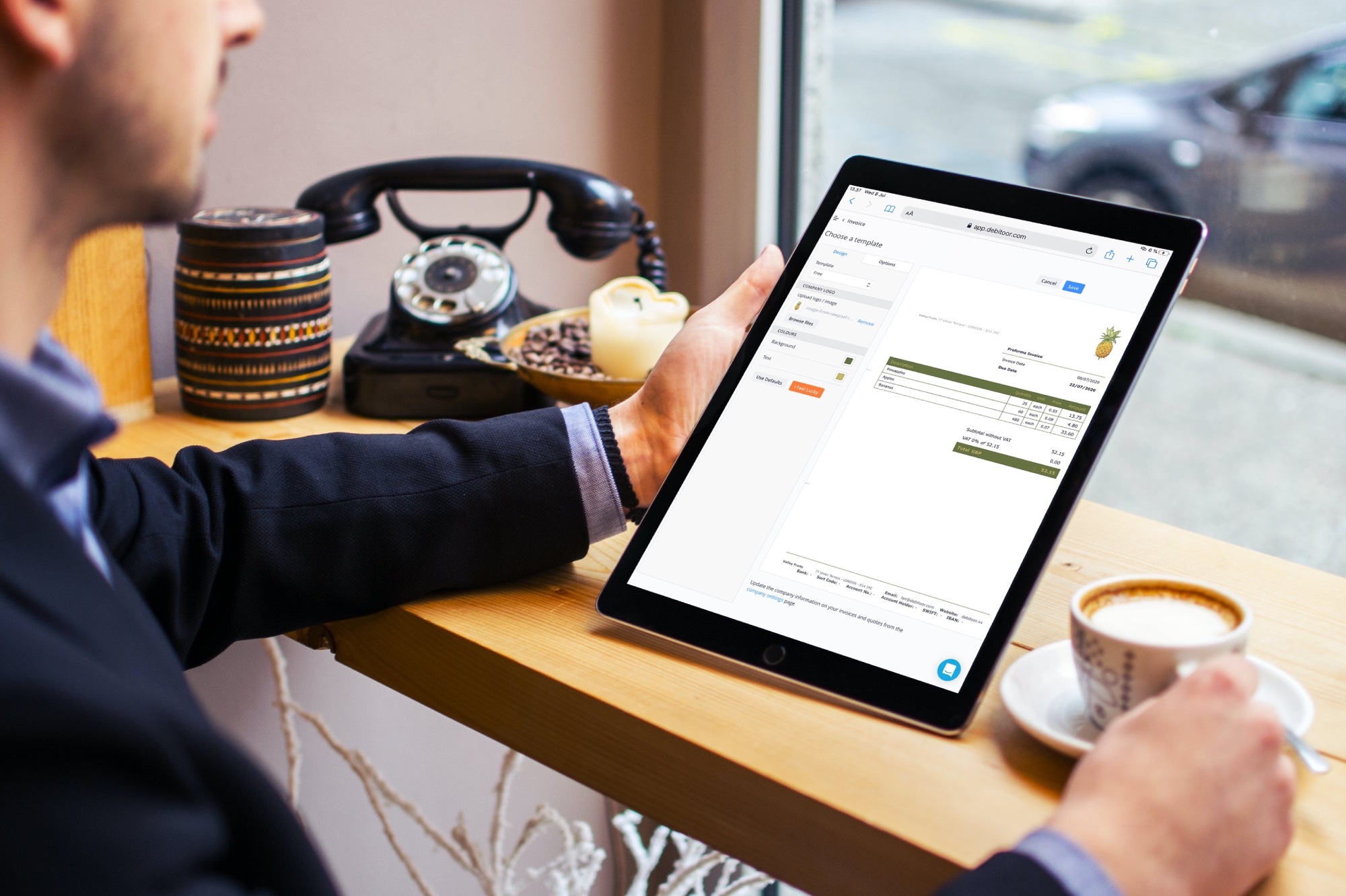 This will give you more flexibility and freedom than the mobile app offers, and unlike trying to do this on your phone, an iPad's larger screen size will help you to get an overview of how your invoice design looks.
Want to get the most out of your business iPad? Download the Debitoor iOS app from the App Store and create your first invoice today.