Do you work in the financial department of a school? If so, you will understand how important it is to keep your books balanced, ensure that all students have paid the correct fees and that teachers are getting the correct salary. Invoicing software can help you will all aspects of your finances.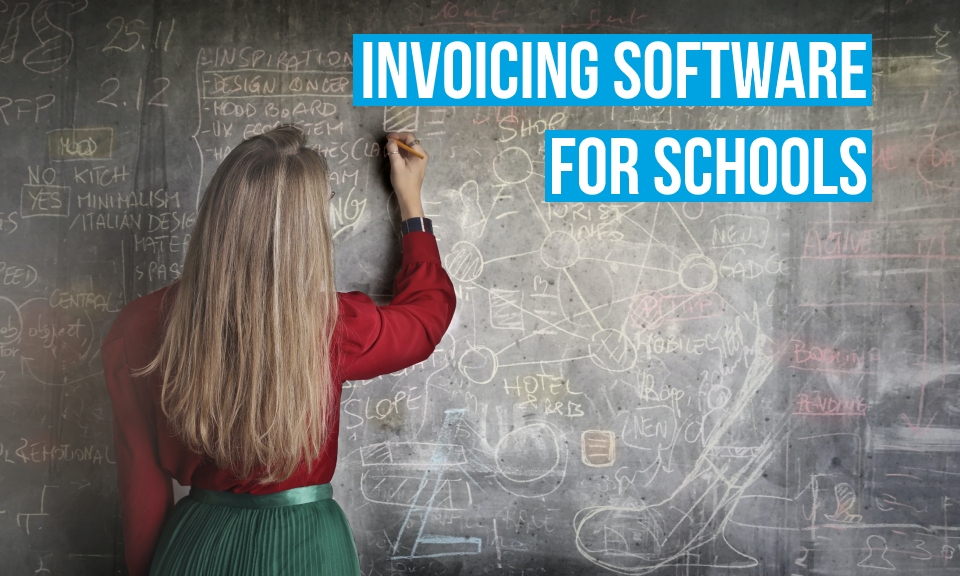 Whether you work for a university, music school, language school, or kindergarten, it is important to keep detailed financial records. In this article, I will explain how invoicing software can help you with creating and sending invoices, recording expenses, and keeping track of your accounting reports.
Student fees management
One of the most important aspects of a school's finance team is ensuring that the students have paid the correct fees. With invoicing software, you can create product lists, customer lists, and professional invoices to keep track of what your students have paid.
School fees with a product list
With invoicing software, you can create a detailed product list which can include the different fees the school may charge.
Here is an example of a school product list using Debitoor:

Invoicing software allows you to create or upload a detailed product list which can include a description, the price, the cost to the company, and an optional image.
You can include any products which you use on an invoice. In a school, this may include tuition fees, textbooks, uniforms, and any other products and services you accept payment for.
School contact lists
Whether you have 10 students, or 1000, it will make your life easier if you have your students recorded in a system.
You can easily upload or create a contact/customer list with invoicing software by entering the customer's name, address, email, and phone number.
When you create a customer on invoicing software, this means that you can simply select the customer when creating an invoice, and the system will fill in all of their details. This will save you tons of time and stress if you invoice customers multiple times throughout their education.
School invoices
Whenever you charge a client for a product or service, you will need to provide an invoice. Invoicing software makes this simple by ensuring that all of the required information is inputted for you.
You can also easily input your business information to show on all of your invoices, including your business contact information, address, VAT registration number, and bank account details.
If you have already created a product and customer list, it can take seconds to create an invoice, and email it to the customer.
With Debitoor, you simply create a new invoice and select the correct customer, and products. The system will fill in the customer contact information, the price, and your business details. Easy as that!
You will also be able to visually see which invoices are paid, unpaid, or overdue so you never miss a payment.
Expense management
Every business, including schools, will have expenses. An expense is any cost experienced by a company.
School expenses may include office equipment, school and writing supplies, school uniforms, books, and payroll.
Anytime your school incurs an expense, you can simply record the amount and details on your invoicing software.
With Debitoor, you can even use OCR technology to take a picture of an expense receipt on the mobile app and then the system will fill in all of the details!
Teacher payroll
So we've covered student fees, and how to record expenses. But how to do you record the teacher's salary or wages? Payroll is a big part of any business. You need to calculate taxes, sick pay, commission, maternity leave, etc.
With Debitoor, you can simply mark your payroll as an expense. Once you have submitted your payroll and paid the employees, you can enter the total amount that was charged for payroll in that period, or divide it up based on categories.
For instance, with Debitoor invoicing software, you can create a new expense, and add different categories within that expense for salary, income tax, maternity leave, travel allowance, national insurance, and any other payroll-related expenses.
This way, you can easily run a report to see how much you are spending each month on salary, tax, and other payroll costs. As with any expense, you can also upload a document such as payslips or a full payment submission.
Financial and accounting reports for schools
Accounting may not be the most exciting part of a business, but it is extremely important. Detailed accounting reports will not only help you keep track of your business transactions, but they will also help you gain potential funding, forecast revenue, set budgets, and keep relevant details for the tax authorities.
The main accounting documents are the balance sheet, profit and loss statement, and VAT report.
The balance sheet is a document showing what a company is worth at any given time. It provides three key aspects of the business: assets, liabilities, and capital.

The profit and loss statement provides information on the income and losses of a company over a period of time.

The VAT report needs to be submitted to HMRC on a regular basis if your school is VAT registered. If your school makes over £85,000 in the tax year, you will need to register and apply VAT to your sales.
With invoicing software, all of these accounting reports will be automatically updated as you conduct your business. Every time you issue an invoice, record an expense, or accept a payment, the reports will reflect the changes in real-time.
Create customised invoices
Customising your invoices is a great way to set yourself apart from your competitors, and create professional-looking invoices related to your business.
With invoicing software, it couldn't be easier to add some flair to your documents. You can use pre-set templates, add a logo, add images, include/remove certain information, and even change the fonts and colours on the invoice.
Here is an example of a customised music school invoice: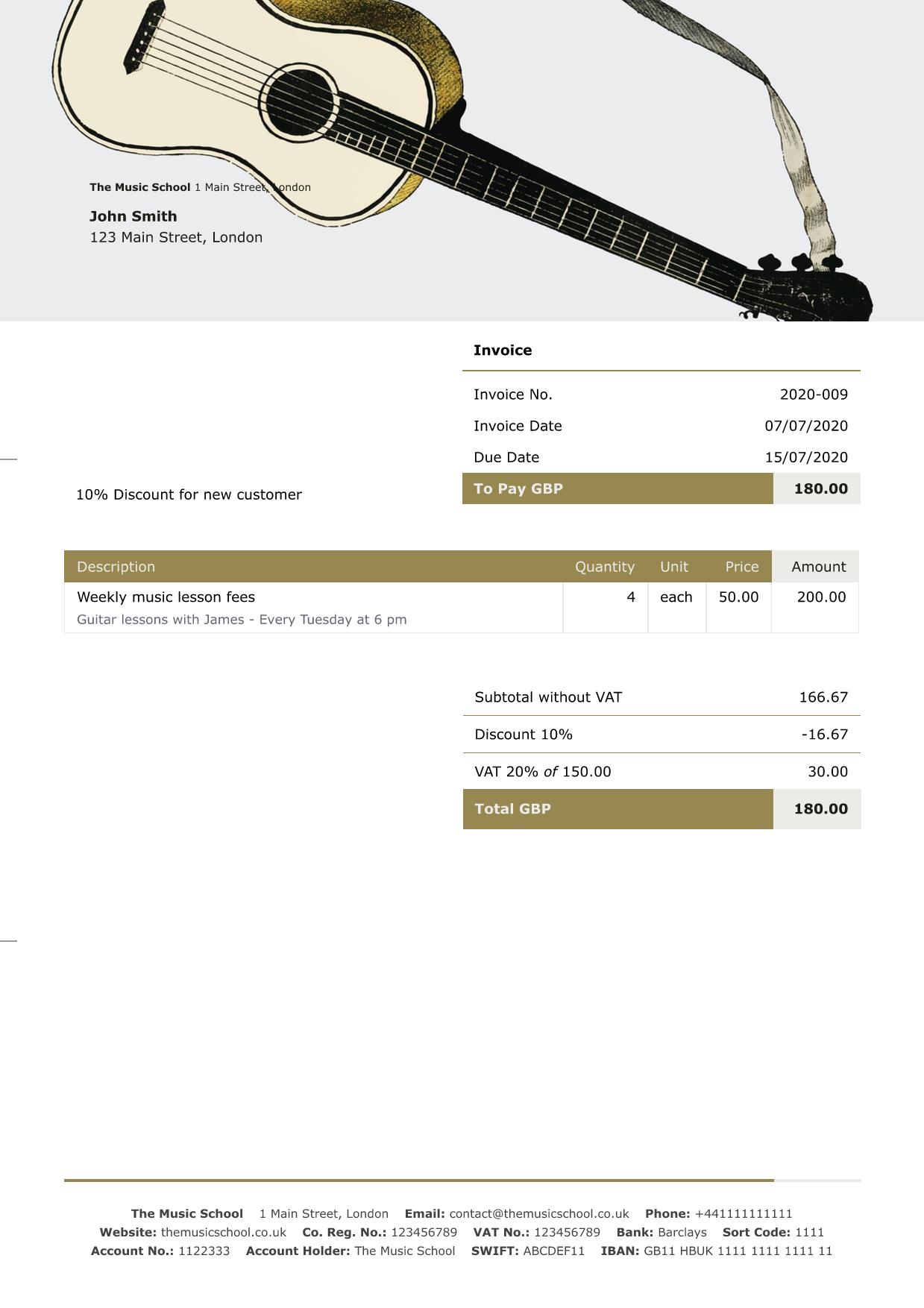 Accept payment from your students with invoicing software
Once you've chosen an invoicing software and issued an invoice to a student, you will then need to get paid. With Debitoor, there are multiple ways to accept payment from your customers, regardless of if they are in front of you or in another country!
The most popular customer present payment options are cash and credit card. For these payments, you can easily record cash with your invoicing software, or connect a card reader.
With Debitoor, you can connect a SumUp card reader to accept credit card and contactless payments. This means that every time you accept a card payment, the transaction will show in your Debitoor account and match with the invoice.
SumUp also offers virtual terminal and mobile payment transactions so that your customer can pay remotely when they are not physically present.
Debitoor also offers payment connections through PayPal, which will include a payment link directly on your invoice.
If you choose a different payment method, you can easily upload a bank statement for automatic bank reconciliation. This means that the system will match transactions on your bank account to invoices and expenses on your Debitoor account.
Feel free to give Debitoor a try with a 7-day free trial!