In contrast to many other invoicing and accounting programmes, at Debitoor we've always put an extra focus on our mobile app.
Because we know that many freelancers and small business owners have extremely busy schedules and are often on the road with no time to spare.
So with an aim to make our mobile app just as easy and fast as our browser version, you can create and send professional-looking invoices and keep your business running straight from your iPhone or Android.
For example, you can create and send an invoice to your customer immediately after completing a job - while still on site!
It's our goal to help your business thrive even more in the future, which is why we're built and released the new Debitoor iOS app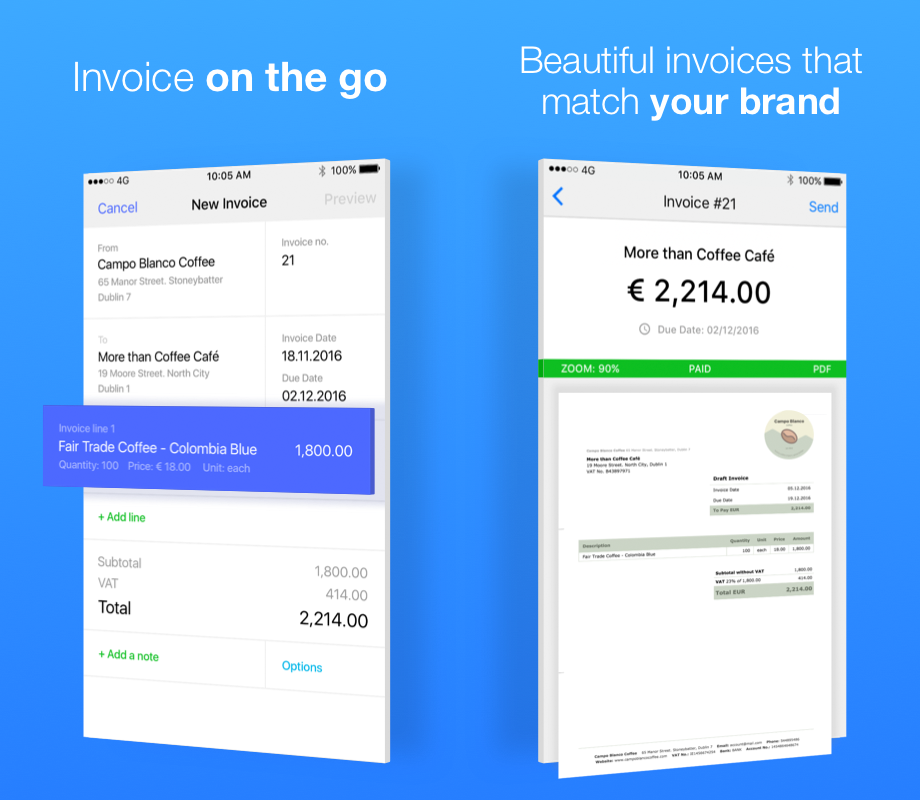 Why a new app?
Maybe you're already familiar with the current version of the Debitoor mobile app. But be warned, we've made it faster, simpler, and, well, in a word: better.
Our new invoicing app for iOS makes creating and sending an invoice easier than ever.
Is it the fastest and simplest app for invoicing? We think so. Because we've designed it to be.
In the highly intuitive new app, you can add the necessary information to your invoice template in moments. No more extra taps needed.
Customer and product details can be saved, allowing you to add them to invoices with just a click - saving you time and helping you avoid making mistakes.
In addition, it's no longer necessary to enter customer contact information by hand. You can now import it directly from your phone.
You'll also always be able to quickly view the status of each invoice: when it were sent, when it was viewed by your customer, and when it was paid.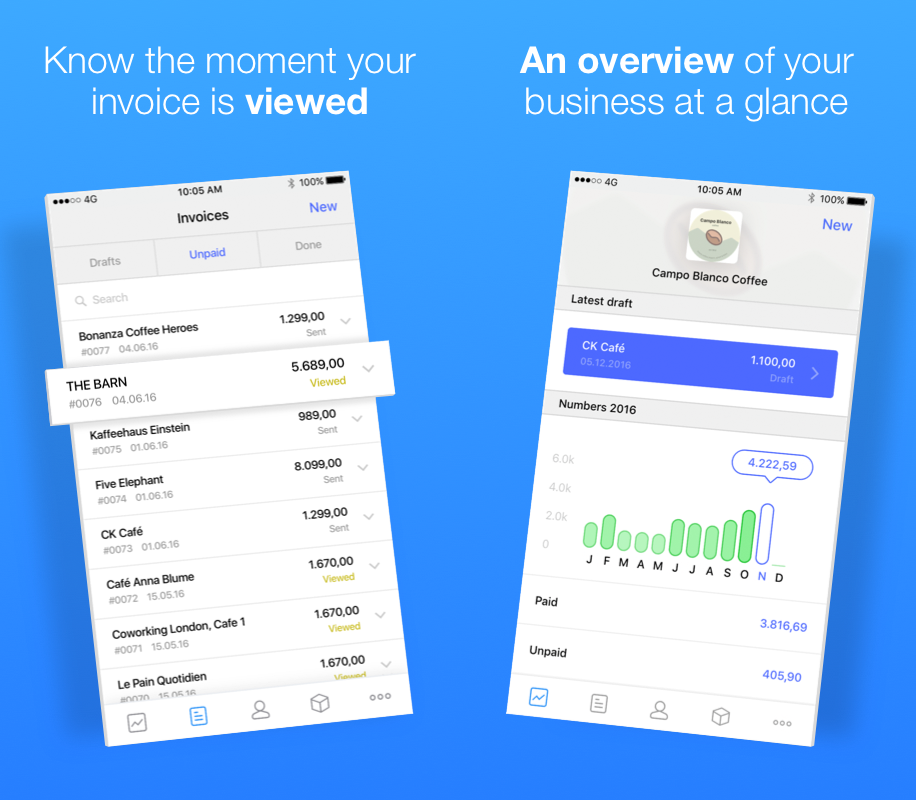 Reach your customers directly
Do you have a customer who you know only checks their email every now and then? Not a problem.
You can send them an invoice as a PDF through WhatsApp or iMessage so you know that your customer receives the invoice, then and there.
In the new Debitoor iPhone app, you can choose the communication channel that works best for you and your customer. Choose from email, WhatsApp, iMessage, or Hangouts.
More features are also on the way!
Plus: work offline
A great new option we're excited about is that the mobile app and functions will all be available offline.
Have you been in a situation where you have your mobile app ready to go but find that you're outside the coverage area without access to wifi? With Debitoor, this is no longer an issue.
The new iOS app has an offline mode, meaning you don't need an internet connection to get your work done. You can create your invoices without internet, and send then as soon as you're back online.
Should you use the new Debitoor app or the current one?
If you currently use or plan to use the mobile app mainly for creating and sending invoices, the new iOS app is the one for you. It's technically more advanced, more intuitive, beautiful, and fast.
The new app is limited to invoicing for the time being, since it's the function used by the most users by far. We'll continue to add more features gradually.
But not to worry - the current version of the Debitoor app will still be available and work as well as ever to make sure you still have tools you need to manage your accounting. You can find it in the app store under 'Debitoor Classic'.
To break it down: If you need the expense recording functions and more, Debitoor Classic is the choice for you.
If you mainly use the mobile app for invoicing, then check out our new iOS app to experience the latest in fast and easy invoicing straight from your mobile.
We look forward to your feedback!