Our developers have been busy. After gathering feedback from you, our users, we wanted to give you what you've asked for and make it easier to get started with Debitoor to manage your business accounting.
So the developers have worked their magic and made it possible for users to enter starting balances from their business bookkeeping directly in the P&L.
New users who switch to Debitoor from another software, or if you're already using Debitoor invoicing and want to start using the accounting side, can start at any time from any point in their accounting and pick up where their previous record-keeping left off.
For example, if a user were to switch to Debitoor in October, they could enter the values that they have currently, then begin using Debitoor to manage their income and expenses and the amounts added in Debitoor will automatically be added to the opening values entered, allowing the user to continue business accounting seamlessly.
Entering opening balances in th P&L: how it works
The Profit and Loss report can be found on the larger Debitoor plans by clicking on the 'Reports' tab at the top, then on the 'Profit & Loss' tab. You'll see a box on the upper right side. Click on the 'More Options'.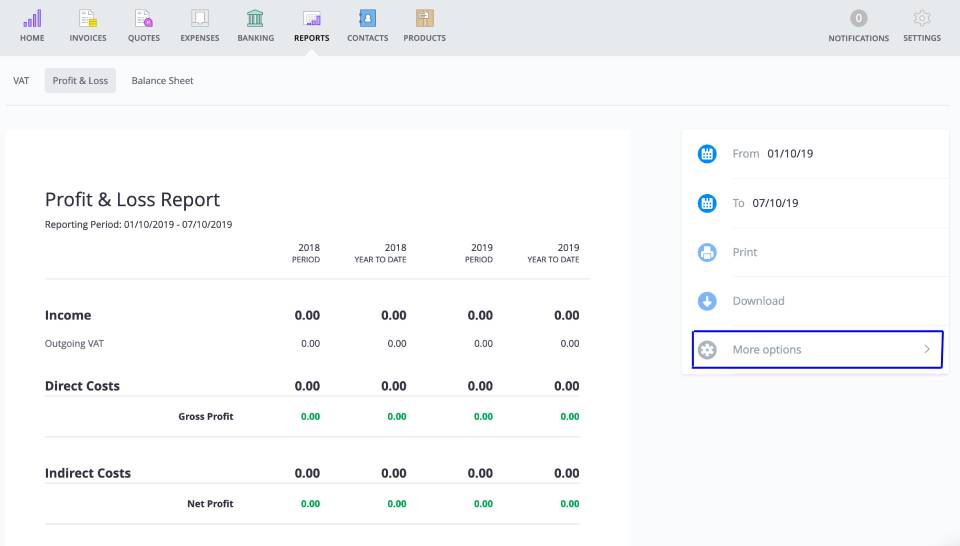 Next, you'll see an option to click on 'Set your starting numbers'. That's what you want to do. Click there and you'll be taken to the page to set the opening numbers for your accounting.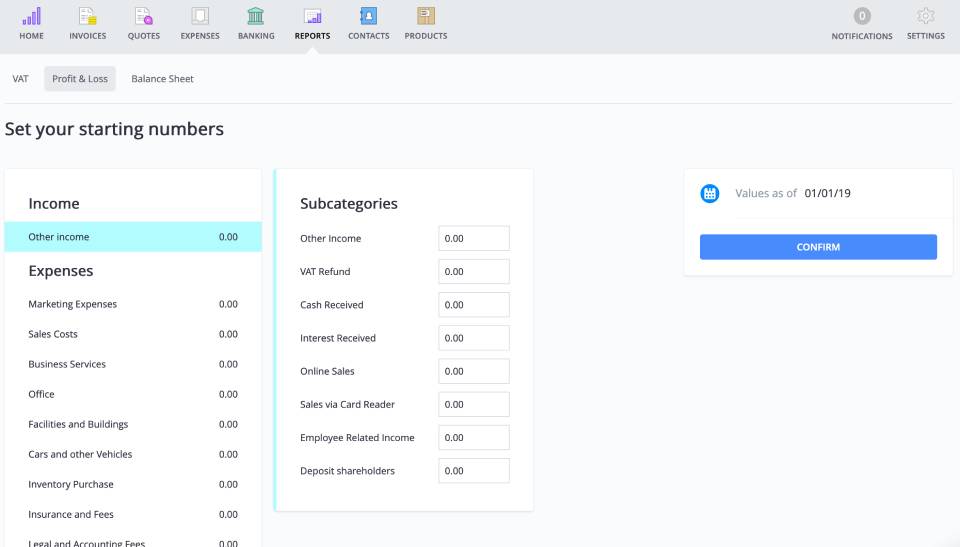 Once you've entered the necessary starting number, click the blue 'Confirm' button. If you notice later on that there seems to have been an error made when entering the amounts, it's always possible to go back and correct it just as you've done.
Switching to Debitoor accounting in the current accounting period - what to keep in mind
Can't wait to start using Debitoor for your accounting? There's no need to! Starting numbers make it easy to get started with Debitoor at any time, for your business invoicing & accounting needs.
The first step is described above - enter your starting numbers for your current financial period in your Debitoor P&L. This will mean that at the end of your fiscal year, the numbers all add up and you won't need to try to combine data from two different systems.
Next, be sure to export your data from the previous accounting software or system you were using so that it can be easily stored and saved in the cloud and/or on a hard drive. This will ensure that you have everything you need in case the tax authorities make a specific request.
It can also be useful to record the date that you switched from one program to another, just in case you're looking for something specific.