Nowadays, more and more aspects of business are turning towards digitalisation so rapidly that it can actually be quite difficult to keep up! There's no need to be afraid of it though, if anything you should embrace the benefits of digitised processes and products.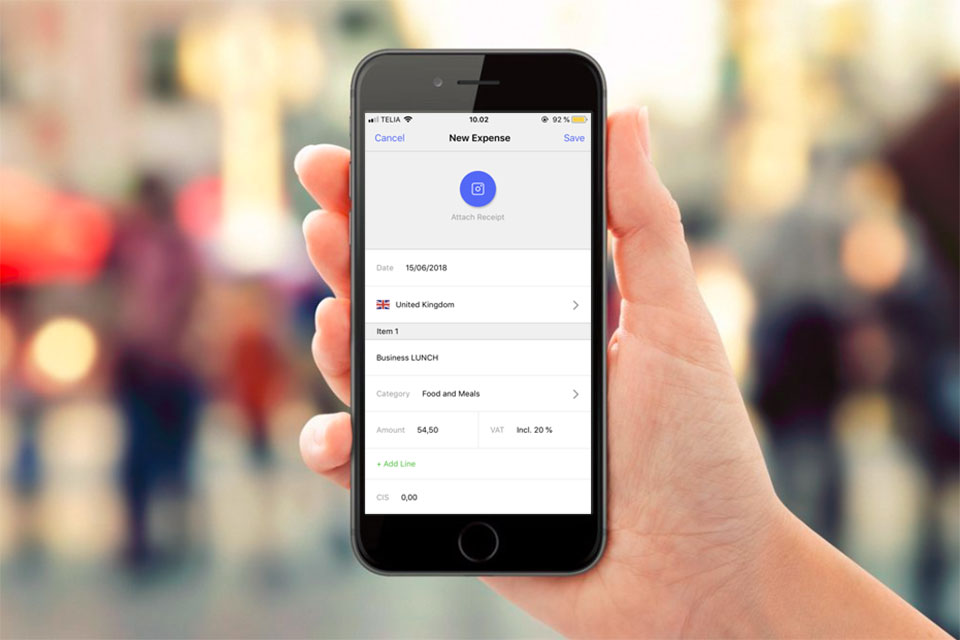 For you to be strategic in your business, you should consider thinking beyond processing paper documents, and rather use a faster and more effective system such as OCR.
What is OCR?
Optical Character Recognition (OCR) is a technology that enables you to scan documents and images, and convert them into different types of documents such as PDF files or images captured by a camera into searchable and editable data.
When can you use OCR?
Well, imagine you are out picking up supplies needed for an upcoming job. You purchase the necessary equipment and then head straight to the job. When you are busy juggling many things at once, you could easily forget to register each expense in your business accounts. What you should really do is add the expense directly from your mobile phone, right there and then!
Whether it is a taxi receipt, train ticket, or bill for business lunches - all you need to do is take a photograph of the receipt, create a new expense and attach the photographed receipt, and click save. It really is as simple as that. The OCR software will read single letters and numbers of the image and assign the information to the correct fields.
The OCR function gives you a good overview of your business expenses anytime and anywhere. Better yet, you can say goodbye to the times of rummaging through your trouser pockets looking for crumpled receipts from months ago.
Save time with OCR
With the Debitoor OCR function you can record any expense instantly and easily by scanning the receipt. The OCR function reads the document or receipt date, amounted value, and country, and automatically fills these in for your expense. When you begin to enter a description of your expense, the system will automatically suggest a category that best matches the purchase.
This can save you a lot of time by no longer needing to type in each value manually. Furthermore, thanks to self-learning algorithms, the OCR system improves the more it is used, by learning.
OCR in the Debitoor iOS app
Whether you are using an iPhone or iPad, you can add an expense in the Debitoor iOS app by tapping the '+' at the top right corner of the Expenses screen. This takes you to 'New Expense', where at the top of the screen you have the option to 'Attach Receipt' by clicking on the blue camera icon. You can either snap a photo of the receipt directly, or upload a photo of the receipt. Then, fill in the necessary description details, and select your category.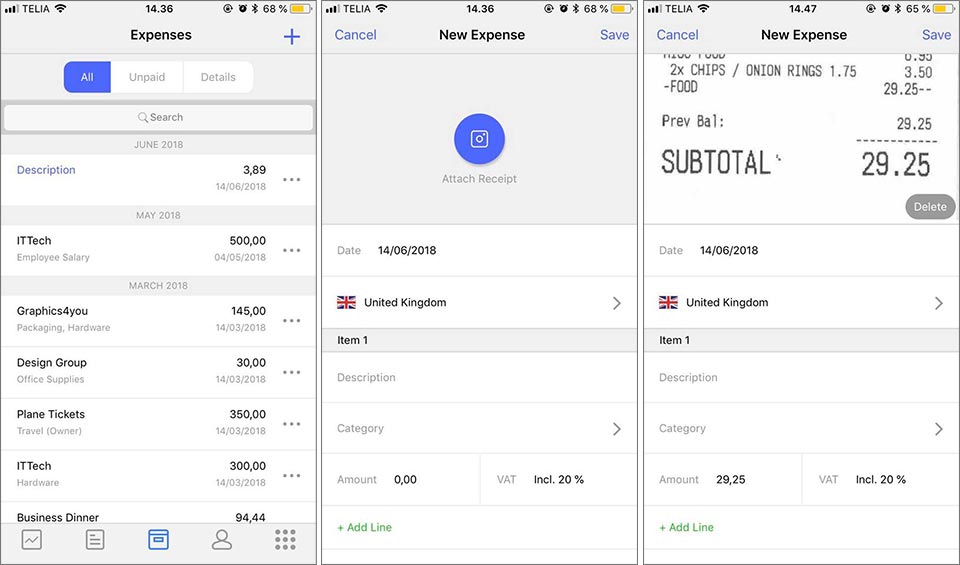 OCR in the Debitoor browser app
In your browser app, you can still capture expenses using the OCR function in Debitoor. In your 'Expenses', you can click 'New Expense' in the top right corner. Here you have the option to enter the details manually or you can choose to 'Upload Document'. You can upload an image in either JPG, PNG, or GIF format, or PDF file.
If, for example, you have a PDF invoice from a supplier, you can simply upload the document as a new expense, and the OCR feature will take care of the filling out the main information. All you need to do is choose a category and supplier from the drag down menu.
Another option of using OCR in Debitoor is to set up a Debitoor email alias address under 'Settings' - 'Settings' - 'Account' - 'Your Account' - 'Debitoor Alias'.
Once you have created an email alias (which is just a forwarding email address), you can send a photograph or document of a receipt from your email address to your email alias, and it will automatically create an expense in your Debitoor account.
Whichever method you choose to use, it is as easy and fast as ever!
Improving your business through digitisation
By improving and digitising the process of recording an expense, we are giving you the tools that will help you to better track your business cash flow, and manage your finances.
We continuously strive to make your work as easy and convenient as possible. If you thought invoicing with Debitoor invoicing software was easy, you should try adding expenses with our OCR function!