With deliveries quickly jumping from a popular option to now the only option for some, many businesses are looking at ways to transition to providing delivery or looking into ways to make the delivery process more efficient and professional.
While there might be some aspects that are ultimately out of the control of suppliers (transit times and parcel handling, as well as weather), there are a number of ways to ensure a positive process for your customers when it comes to deliveries.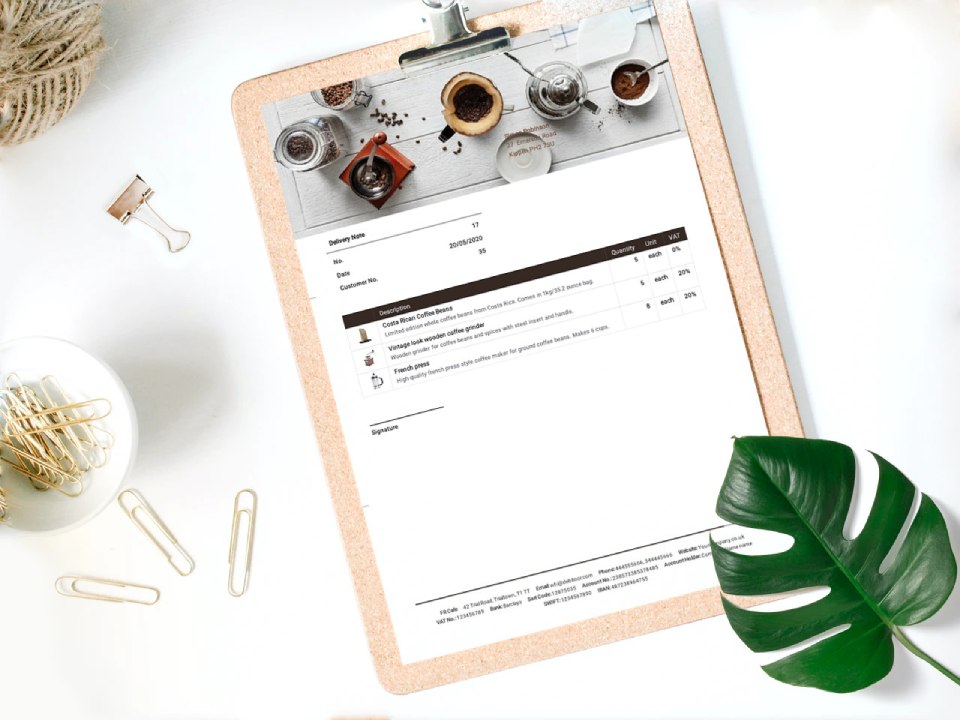 The purpose of a delivery note
Delivery notes are typically considered to be used primarily in the interest of the customer receiving the goods. It provides a breakdown of the items included in the parcel, usually with a description and quantity of each. Delivery notes typically do not include the prices of any of the items - this is left to the invoice.
Delivery notes help to remind a customer of their order and/or inform them of what is included in the current shipment (for example, if certain products are shipped separately).
However, delivery notes can also serve a useful purpose on the seller side as well. When a delivery note is created directly from an invoice, it serves as an accurate checklist for what should be included in a shipment. This can help to prevent errors or missing products, thereby providing the customer with an even better experience dealing with your business.
Why include a delivery note with your orders
A delivery note not only helps a customer to quickly understand what should be included in the shipment, it also offers another level of professionalism from your business as well as an opportunity to expose the customer to your brand again - making it more memorable and arguably creating more potential for repeat business.
A delivery note often includes a signature field, which the customer/recipient signs upon accepting the shipment (often after checking that the contents match the items on the delivery note). Once a delivery note has been signed, this means that the customer cannot later claim that something was missing or broken in the shipment, for example. This provides a level of protection for both the buyer and the seller.
A delivery note is a document that helps to finalise a sale professionally. They're also simple to create with the right tools.
How to create a delivery note
Delivery notes should always contain a certain set of information: the date, the name and address of the recipient as well as the supplier, a list and description of each product and the quantity of each product that is included in the shipment.
Optionally, a delivery note can also include other elements such as a signature field, and the pricing for each product. Certain businesses might choose to include other information on the delivery note, so delivery notes tend to vary in content and structure beyond the basics mentioned above.
While this might seem like a lot to include on the delivery note, if you've already created the invoice, that should make the process much faster and smoother. If you're working with online invoicing software like Debitoor, you can generate a delivery note directly from your invoice in just a couple of clicks.
To do so in your account:
Navigate to the invoice for which you'd like to create a delivery note
Click the three dots at the top right of the screen
Select 'Create >'
Choose 'Delivery Note'
You can then make any necessary edits to the delivery note (for example, if a product is not included in this particular shipment) before clicking 'Save' to complete it and printing off your delivery note to send along with your parcel.
All delivery notes created in your account can be found by clicking 'Quotes' in the menu bar and then 'Delivery Notes'.