Invoice design, that is. Classic means traditional but not outdated. It comes with a certain sense of simplicity and is understated but effective. Our latest invoice design meets all of these expectations by giving your invoices a professional and familiar but clean look.
Here at Debitoor invoicing software, we're always listening to feedback from our users, and for some time, users were requesting a more traditional invoice template that clearly separated the issuer and the recipient like traditional paper invoices but still allowed for customisation.
Through the efforts of our talented colleagues, the Classic invoice design was born. Our designers took the ideas presented by you, the users, and built an invoice template that meets your invoicing needs but also incorporates the ease-of-use and professionalism of invoices created with Debitoor.
So without further ado, more on the Classic.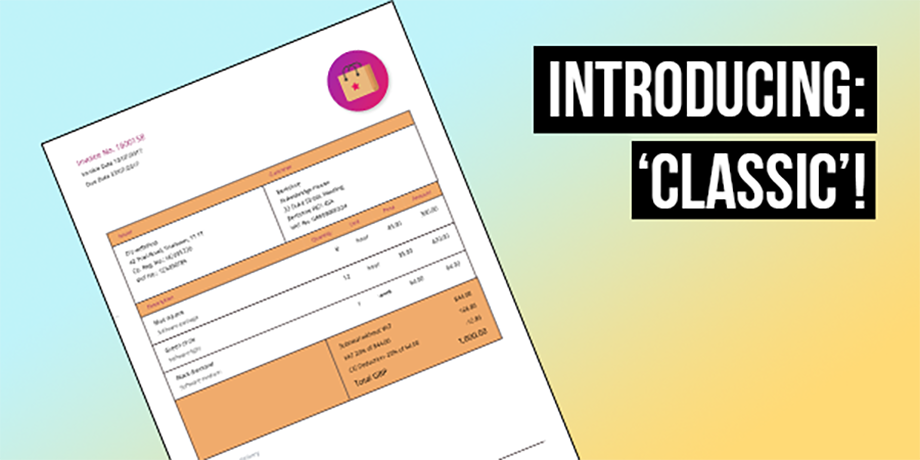 What are the features of the Classic?
The Classic invoice template places the invoice number, date of issue and the due date at the top left, with your logo on the right.
The information regarding your business name and address as well as your customer's appears directly below, clearly indicated by boxes with the relevant titles for each. Further information such as banking and contact details appear in the invoice footer.
Below the issuer and recipient details, your invoice lines provide the name, description, unit quantity and price of your product and/or service.
At the bottom you'll find the footer that you're likely familiar with from other invoice layouts, which includes any further details you'd like to provide your customer, such as banking and contact information.
How do I customise the Classic invoice design?
As with the other invoice designs available in Debitoor, you can customise it as soon as you've filled in your invoice template by clicking the '...More' button and selecting 'Change Design'.
There, you can customise several aspects of your invoices including:
Changing the invoice template by selecting one from the drop down menu. You will see the new layout instantly applied in the preview on the right.
Upload your logo or an image for your invoice (if you have not already done so in your settings).
Customise the background and font colour of your invoices.
Change the font: select your favourite from 13 different fonts.
Move the customer details from right to left in the Classic template.
Show or hide the footer.
Access other options for your invoice.
In the 'Options' tab, you can determine whether your invoices should show or hide your:
Company name
Company address
Customer number
Product number
Quantity
Unit
Price
VAT
Signature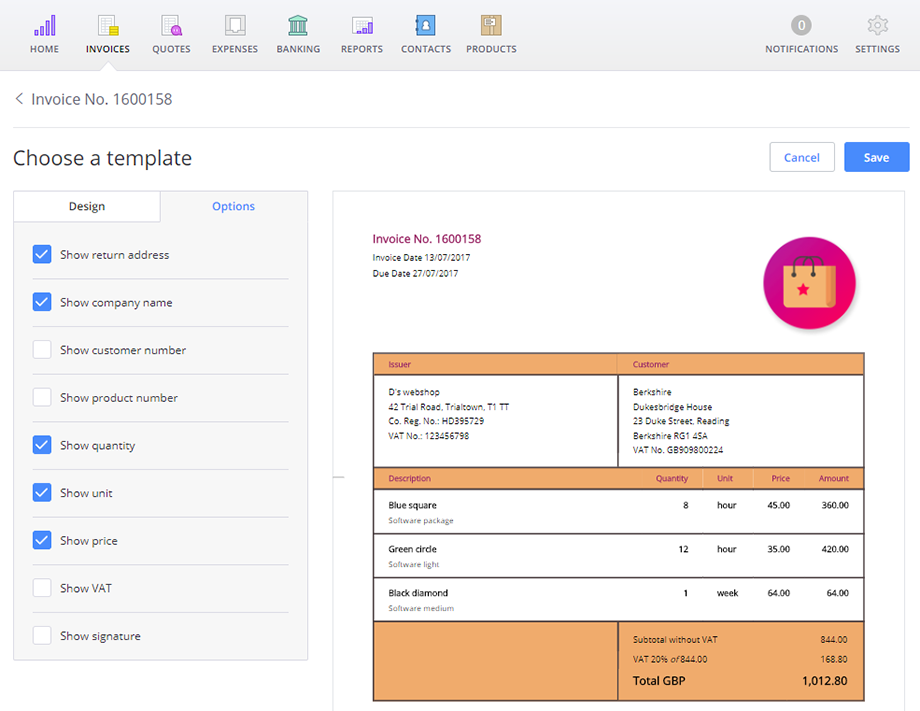 These customisation elements allow you to make sure that your invoice meets the needs of your business and provides your customers with the important information that will help you get paid.