If you want to be paid for your work, you've got to invoice your customers, it's as simple as that. But it can happen that when completing this final step to getting paid, you slip up and make a mistake that can cost you time and money. Fortunately, Debitoor is on hand to support you through this process and can help you by creating bespoke invoice templates with a few simple clicks.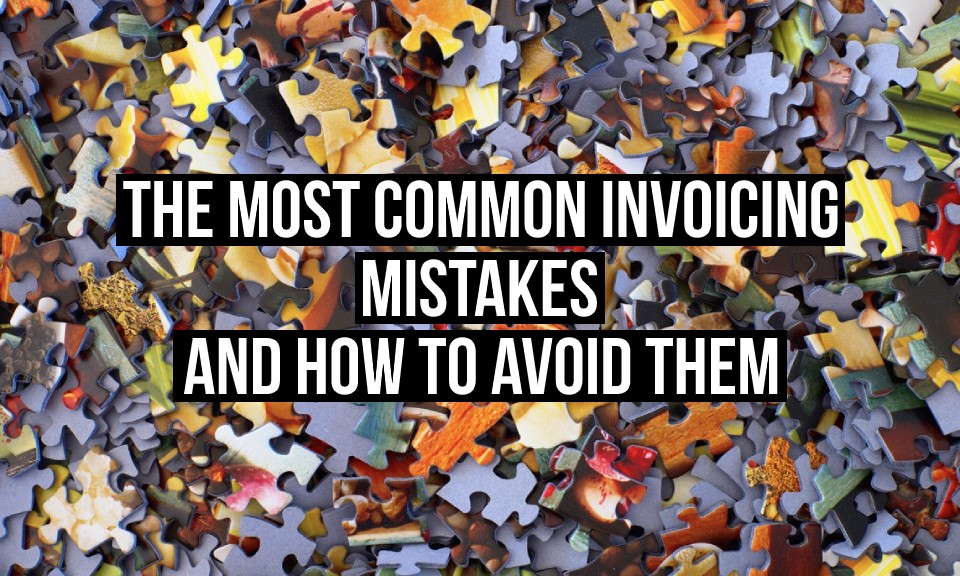 Using an invoice template is the best way to avoid errors and simplify the invoicing process. And whilst invoicing software will take care of most of the issues you may encounter, knowing what to look out for is also important to ensure timely payments. So, here are the most common invoicing mistakes small businesses make when invoicing and how you can avoid them completely.
1. Not invoicing your customer immediately
As soon as you've completed your job, you need to invoice your customers for your work. It's always your responsibility to issue your customer with an invoice, not theirs. This means it's best to invoice as soon as possible whilst your work is still memorable.
Invoicing software should allow you to invoice your customers immediately. Make sure you use any mobile apps your invoicing software provides and invoice your customer as soon as you finish the job. Debitoor for example works on both your laptop and phone, you don't need to wait until you're back at the office to send your invoice. And, as Debitoor is cloud-based system, any invoices you create on the go will be automatically synced with your account.
2. Invoicing the wrong person
Invoicing the wrong person is bound to lead to problems. It looks unprofessional, complicates the process, and leads to delays. You need to check with your customer who the invoice needs to be made out to. This is particularly important if you're invoicing a large company. The person who hired you for the job is not always the one who will manage your payment. Be sure to check with your client if you're in any doubt.
Again, invoicing software can help you with this. You can save your customers' contact details and import their information automatically when you create your invoices. That way, if you do several jobs for the same company, you can save time finding the correct contact details of the person you need every time as it's already saved in your invoicing software.
To save a customer's contact details in Debitoor, simply click on the 'Contacts' tab and hit 'New Customer'. You can then add their name, address, contact information and payment terms.
3. Sending your invoice with errors
Of course, your invoice has to be accurate. Invoicing your customer with incorrect details and errors will raise red flags. They'll think you're unprofessional and unorganised. This will reflect poorly on your business and you may lose future work.
Errors can be simple to fix. Double-check basic details like the invoice number, invoice date, and due date. Whilst Excel may be considered a good way to create your invoices, using specialised invoicing software will check these details for you in a way that Excel cannot. Debitoor will automatically generate your invoice number for you and will warn you if you set your invoice date in the past. These simple features may seem obvious, but they can save you a lot of hassle.
4. Not itemising your products and services
Your invoice needs to give your customer a breakdown of the products and services that you've provided. This might not always be necessary for your client, but for many businesses, it's a simple matter of procedure. If you're working B2B, your client may need your invoice to have this information so that they can track their own expenses. If you make it a habit to always include this information, customers won't ever need to contact you to request this, meaning that you'll have fewer late payments.
You can itemise your products and services quickly with Debitoor. By clicking on the 'Products' tab and then 'New Product', you can save all of the information in advance and then import the relevant products when you create your invoice.
5. Not chasing up late payments
You've always got to chase up any late payments. But of course, this can be a challenge. Perhaps you don't know what to say, you don't have a clear procedure for when this happens, or you may simply be distracted and not notice a missed payment.
Luckily, invoicing software has got you covered. It will automatically tell you when a payment is overdue. This is the first step; knowing when a payment is late. Once a payment has been marked as overdue in Debitoor, you can then send your customer a reminder. You can choose the tone of the email from our email templates or draft your own message if you'd prefer.
6. Not being clear about payment terms
But why has your invoice not been paid on time? Often, it's not intentional, but rather due to miscommunication. It's common to make the mistake of simply not being clear enough with your payment terms. The due date has to be clearly marked on your invoice and if it's not, you'll likely run into issues.
It's common to set a due date of no more than 14 days. This gives your client plenty of time to pay you, and if it's late, it's still soon enough that you won't be forgotten entirely.
Also, remember that if you want to charge late fees on unpaid invoices, make sure this is included on your initial invoice. That way, an additional charge for late payment can't come as a surprise to your customer.
7. Making it hard for your customers to pay you
This one is simple. You need your customers to be able to pay you quickly and easily. If you don't make it easy for them, you're going to experience more difficulties getting your money.
Always ensure that your preferred methods of payment are shown on the invoice. If you would them to pay via a bank transfer, include your banking information on the invoice.
Debitoor also offers third-party alternatives that can simplify the payment process. Customers have the option to pay via SumUp or PayPal payment links directly on the invoice. When using these methods, customer payments can then be automatically matched with your accounts.
8. Not using your company branding on your invoice
It's common to forget that an invoice is still representative of your company. Take the opportunity to stand out! Branded invoices are professional. If your invoices are distinctly issued from your company, i.e. they use your company colours and have your logo, this may improve your recognition and standing in a competitive market.
Using your company branding on your invoice means that your customer will immediately know who the invoice is from. If they have a lot of paperwork, simply making your design a little brighter and bolder may be enough to ensure they don't disregard it, and you'll receive your payment a little faster.
Invoicing software will allow you to brand your invoices. They normally offer you a lot of customisable options, whilst still ensuring all of the information is included. And by using invoicing software to design your branded invoice, you won't accidentally sacrifice important information for the design.
9. Not backing up your invoices
Finally, it's always important you have backed up your invoices. At the end of the tax year, you'll need these for your financial records. Paper format is always risky, so make sure that you have a digital backup.
Debitoor invoicing software will automatically backup your invoices and ensure your files are safe, giving you peace of mind. Moreover, you can manually back up your invoices by exporting your data and saving this on your own hard drive for additional security.