In a previous article, we gave you a quick guide on exporting your data. Useful for saving a copy of all your information to your computer and for sharing, for example, with your accountant (though you can also invite your accountant to collaborate directly), export is an important tool. But did you know you can also import?
Data import makes it easy and fast to add your information if you've been working with other software before, such as Word or Excel. Adding details such as customer names and addresses and product prices and descriptions one-by-one can quickly become tedious.
But online invoicing software like Debitoor aims to make that process more manageable in a serious way: by giving you the option to upload your spreadsheets to import all the data to your account instantly.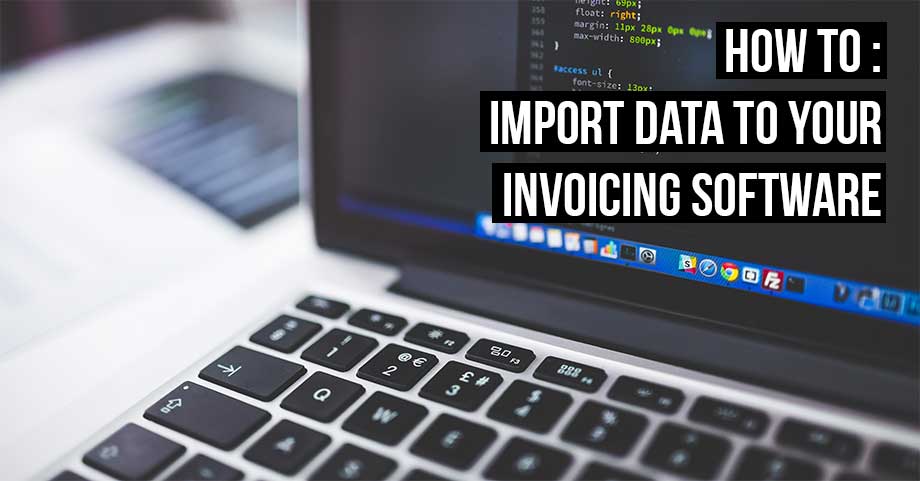 Data import with invoice software
The following import options are available in Debitoor, to make your life just a little bit easier.
Import your customer data
Import your product details
Import supplier information
If you import at least customer and product data, this allows you to start creating invoices instantly, without having to go through and save each customer after typing out their details in a new invoice template. But how does it work, exactly?
Invoicing software and importing customer data
To upload information about your customers, you can either use a CSV file and import it instantly, or you can download and use our CSV template to organise the information into a format the system can read. The template contains all of the important details:
Customer name
Customer number
Address
Phone number
Email address
Country
Country code
VAT number
And any payment terms
Of course, it's not necessary to fill in every field. If you don't have that info for a customer or it's not applicable, just leave it blank.
From there, importing all this information is simple. You need only:
Log in to your Debitoor account
Click on your 'Contacts' tab
Click the 'Import' button
Find and upload your CSV
That's it. Just a few easy steps to completely filling in the information in your account.
Invoicing software and importing product details
Similar to customer information, importing the details about your products is equally simple and straightforward.
Log in to your Debitoor account
Click on your 'Products' tab
Click the 'Import' button
Find and upload your CSV
A nearly identical process, just with different CSV information. Again, you can choose either to import an existing CSV or create one using the template provided for download. This template contains fields for the following product information:
Product number
Product title
Description
Net price
Gross price
Unit
VAT rate
Just as with the customer import, if your product/service does not have some of the information in the fields of the template, it's ok to leave these blank. The information that you do add will be read and imported by the system.
Invoices in your invoicing software
Once your customers and products are imported, you can get to the important stuff: invoicing! When all of your data is on your account it takes only a few clicks to fill in an invoice template to complete and send your invoices directly to your customer.
To use your newly imported data in a new invoice:
Click on your 'Invoices' tab and click the 'New Invoice' button
To fill in customer details, click the customer name field, select the customer from the drop down list that appears, and all of the information will auto-fill
To add your product, select this from the drop down menu as well and simply update the quantity as necessary
That's it! Debitoor takes care of the rest, including calculations for tax, subtotals and totals. All you have to do after that is click 'Save' to create a proforma invoice or 'Complete invoice' to finalise your invoice and automatically apply an invoice number.