Today, being self-employed keeps you on the move. Whether you're travelling to a job, attending a meeting, or visiting a supplier, you're never in one place for too long.
To keep up with the modern entrepreneur, invoicing software also needs to be mobile, which is why we've developed the Debitoor iOS app and Debitoor Android app to help you create invoices and track expenses anytime, anywhere.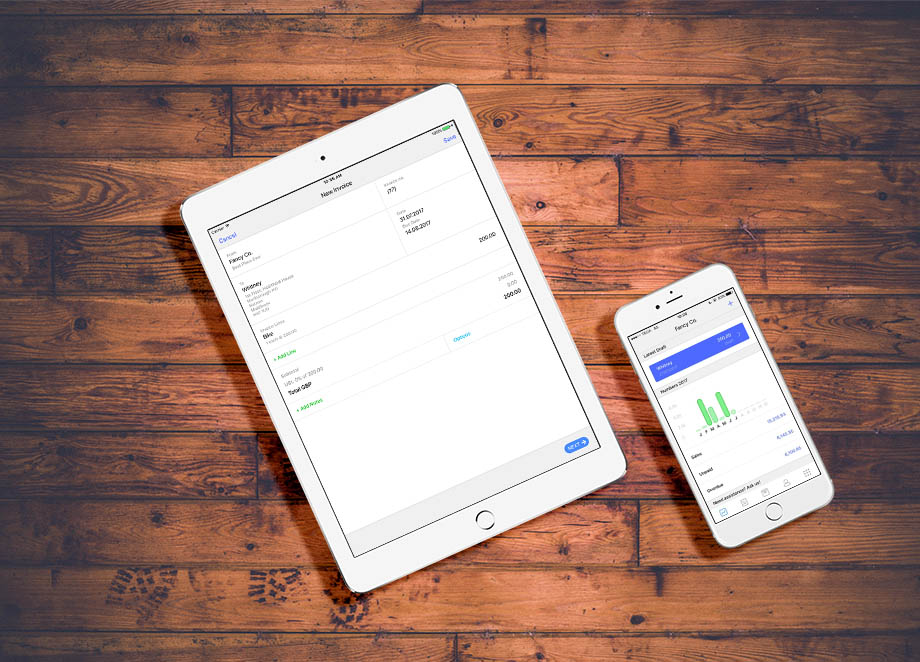 Advantages of mobile invoicing
Many of us rely on a computer or laptop for our work, but having access to your invoices and expenses from a mobile device has many advantages for the entrepenuer on the move.
Quicker and more efficient: Being able to send invoices from a mobile phone or tablet can improve efficiency in your workflow. You don't need to put off creating an invoice or entering an expense as you can access your account whereever, whenever.

More convenient: Most of us carry our phones wherever we go, meaning you can invoice from wherever your business takes you. There's no need to feel stuck at your desk as invoicing apps give you the independence and autonomy to manage your business from wherever you prefer.

Less paperwork: Gone are the days of keeping shoeboxes full of receipts. When you create an expense or invoice on your phone or tablet, new documents are automatically synced across all of your devices. Any changes made to existing documents are automatically updated through the cloud, making it easier to keep on top of your finances whilst cutting down on paperwork.
What can I do from my phone?
You might be wondering how much can be done from a phone - but with Debitoor invoicing software for iPhones, iPads and Androids, you have all the essentials for running your business in the palm of your hand.
Create and send invoices using invoice templates.
Track expenses, using OCR technology to read images of your receipts.
Keep track of payments, and enter new payments anytime, anywhere.
Access your customer and product lists.
See a quick overview of your monthly and annual sales.
Ready to start invoicing on the go? Debitoor invoicing software is available on iPhones, iPad and Android Devices. Download now from the iTunes app store or the Google Play store