In a previous article, we took a look at what kind of invoicing and bookkeeping software works best for those working as photographers, both full-time and as a side hustle.
Today, we get into a bit more detail by looking into invoices for freelancers and entrepreneurs in photography. More specifically, we address the time-saving ways that photographers can create invoices.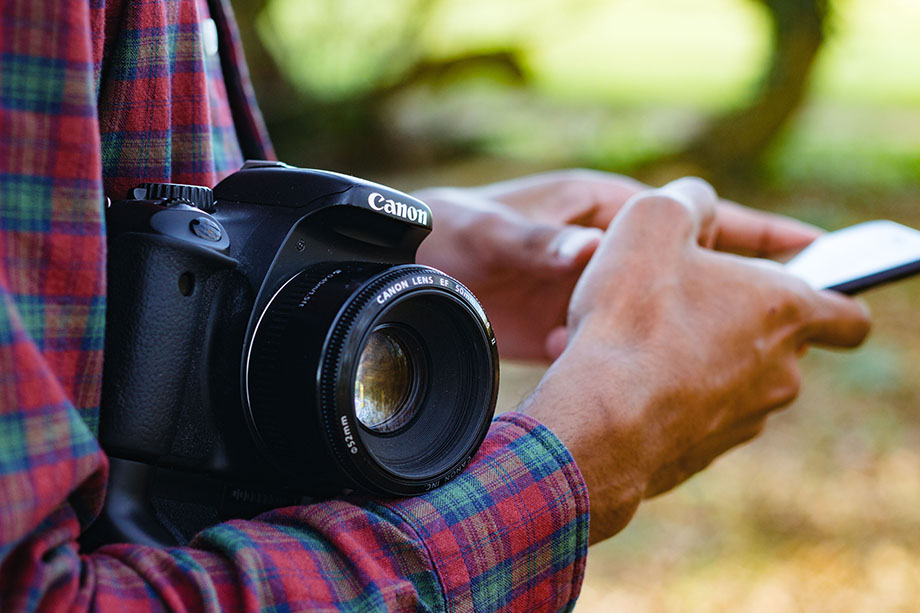 So what is an invoice template for photographers?
An invoice template refers to a set series of fields that can be filled in to help you create a professional, legal invoice. Invoice templates allow this process to significantly reduce the amount of time it takes to complete an invoice.
How? Online invoicing software like Debitoor gives you the option to save your customer details and product information so that it takes only a couple clicks to select them from a drop down menu to add to your invoice - the rest is autofilled!
In addition, you can also save Notes or Terms as default, to be applied across all invoices you create. So if you have particular payment terms, these can be easily included without the need to constantly copy paste with several windows open at once.
But an invoice template for photographers? Should be able to do more than that. It should also meet certain other requirements that many in this profession might hold. For example, you should be able to add your unique touch to the design, create bespoke photography packages and provide discounts for certain events.
How can photographers create professional invoices fast?
Once you have the tools to raise an invoice, for example, with a Word or Excel invoice template, but there are precise regulations that each invoice created must meet in order to achieve legal status.
This includes all of the following information:
A unique invoice number that falls into your invoice sequence
Customer name and contact details
Your name and business contact information
The date of issue for the invoice
VAT number (if applicable)
Product details
Prices
There is some additional information that is not mandatory but can be included in your invoices:
Your banking details to make it easier for customer to pay quickly The due date for payment of the invoice
Designing your invoice
For the artistic and creative types, the thought of an official, legal document such as an invoice can feel like a restrictive part of your business. But as a professional, your invoice can (and should!) be tailored to fit your unique brand.
This means that (by all means) your invoice can be an expression and even promotion of your photography. In Debitoor invoice template, you can upload your logo to be displayed on all of your invoices. Alternatively, you can upload one of your images to the banner across the top of each invoice you send out.
Not to mention the ability to change the fonts and the colour scheme. That's just icing on the cake.
Granting discounts in your invoice template
If you have special discounts for a particular season or event (weddings, graduations, for example), or seasonal specialities, or even just a discount for repeat customers, you will want to include this clearly on your invoice.
With Debitoor invoice templates, you can choose to offer a discount off the entire invoice, or you can select only certain services within the same invoice to discount, giving you flexibility in your invoices and offers.
Saving time writing invoices
While it might seem that creating an invoice can be a complex process, invoicing software like Debitoor aims to make it as fast and simple as possible.
Not only does it help you save time by allowing you to use the autofill function for customer and products, it also automatically updates the date of each invoice, the invoice number (applying the next number in your chosen sequence).
You can also create and send invoices while on-to-go or on location after finishing a job, direct from your mobile with the Debitoor iOS app or Debitoor Android app.
But Debitoor is more than just invoicing. You can also:
Register expenses
Track depreciation of assets
Upload bank statements
Match payments
Offer online payment options such as PayPal
Create quotes & delivery notes
Send receipts for payment
In addition, Debitoor offers some more advanced bookkeeping features such as financial reporting, automatic bank reconciliation and more.