An invoice template can make your life easier as an entrepreneur. Yes, it's as simple as that. Not only does it help you save time but it also helps you avoid mistakes when typing in all the details needed for invoicing your customer.
Because an online invoice template covers all of the regulatory requirements, including VAT, the necessary customer and product information and pricing details to ensure that your invoice is legally up-to-date.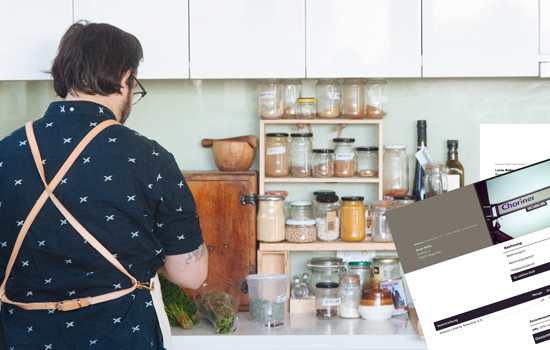 When you know your invoice is accurate and clear, this saves you, your customer, and your accountant a variety of communication hassles.
Who needs an invoice template?
If you're selling a product or a service, either to individuals or to businesses, you will need to issue an invoice, as required by law. Whether you're a sole trader or a limited company, invoices are an important necessity.
There are a few extra requirements to be aware of according to gov.uk.
If you are a sole trader, your invoice must include both your name as well as any business name under which you're operating.

As a limited company, each invoice must include the full company name as you have registered and as it appears on your incorporation certificate.

And finally, if you are VAT registered, you should use an invoice template that allows you to select the necessary VAT for each product or service line on the invoice, as well as the total VAT applied to the final total.
Why use online invoicing software?
Word and Excel invoice templates can work fine if you only have a couple of invoices to handle.
However, if you use online accounting software like Debitoor, the advantages are significant.
You can turn VAT on or off, as well as specify VAT per line for each product or service on your invoice

Apply discounts and add terms such as 'Payment on delivery' if needed

Design your invoices to increase the professionalism of your invoices, promote your brand, and stand out from the competition

Save the contact details for your customers, as well as specifications for your products or services to quickly autofill an invoice template using drop down menus

Maintain an overview of the status of all of your invoices - whether draft, sent, viewed by your customer, unpaid, or paid and search them at any time

Connect online payment options to offer a quick and easy payment option to your customers and get your money faster
Of course, you can always choose instead to stick with Word or Excel if you enjoy a challenge when it comes to creating, sending, and managing your invoices. But the aim of Debitoor invoicing software is to make your life a bit easier.