When you start a business partnership, you'll make several different big decisions, such as choosing a name for your business and assigning a nominated or designated partner. One of the most important decisions you'll make is picking the right invoicing software for managing your partnership's finances.
This article explains what you should look for when choosing invoicing software for your partnership, as well as how Debitoor is ideal for small business partnerships.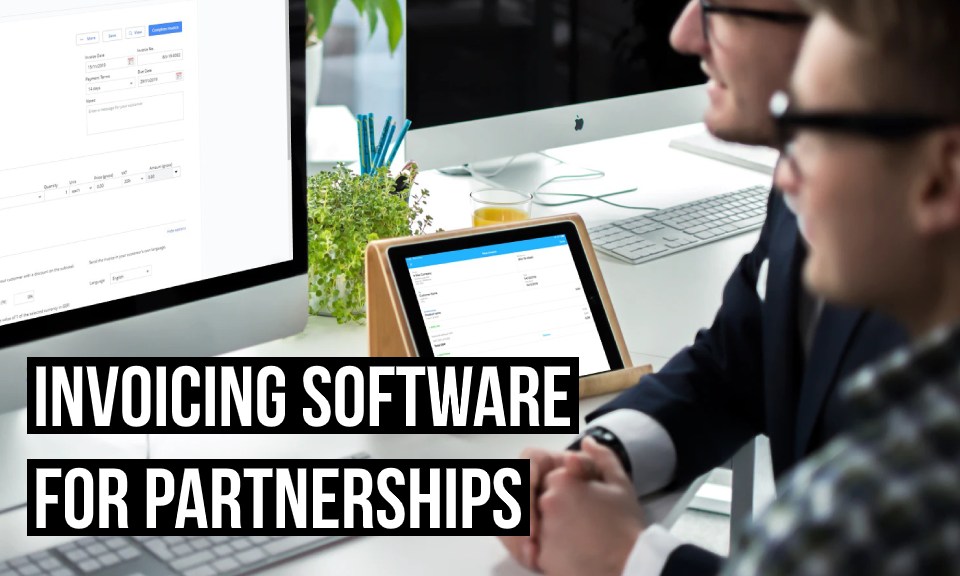 A professional, compliant invoice template
Whether you do the occasional freelance job, run a two-person partnership, or manage an international corporation, your invoices should look professional and comply with the rules and regulations in your country.
Choosing invoicing software with a pre-built invoice template makes it easier to send professional, compliant invoices, and when you use Debitoor invoicing software, every invoice you issue uses a pre-built invoice template. This invoice template contains all of the required fields, including:
Information about you and your client (business name, address, contact details)
Information about the specific invoice (a unique invoice number, the word 'invoice', a due date, an issue date)
Information about the products sold (the price per unit, the quantity, and a brief description of each product)
The total amount due.
All you need to do is fill in the empty fields, enter your customer's email address, then click send.
Multi-user invoicing software
Business partnerships usually have a nominated or designated partner who's responsible for managing the partnership's finances, but when there are several partners that each have a stake in a business's finances, it's common for different people to be involved in one way or another.
Invoicing software with a multi-user function allows different team members to collaborate in one account, splitting the work involved with managing your partnership's finances.
With Debitoor, up to three partners can access the same account. Each user gets their own log in details, and the account admin can choose which features each partner has access to. Because Debitoor runs in the cloud, any invoices, quotes, or expenses created by one partner will automatically sync across all devices where your account is logged in, giving all partners instant access to the same data and documents.
Invoicing software with easy VAT reporting
If your business partnership is registered for VAT, your nominated or designated partner will be responsible for keeping VAT records and submitting regular VAT Returns. It's therefore essential that VAT-registered partnerships choose invoicing software that can help with managing VAT.
With Debitoor, you can add VAT to your invoices and expenses with the click of a button. Just go to the 'Company' section of your account settings and click the 'On' button under 'Apply VAT to income and expenses'.
Plus, because Debitoor is approved Making Tax Digital software, you can send your VAT Returns directly to HMRC – making it even easier for your nominated partner to carry out their duties.
Invoicing software with room to grow
As your business partnership grows, your finances will become more complicated; you'll start sending more invoices, you'll probably incur higher costs, and you might cross a tax registration threshold. It's therefore important to think about which invoicing software has the potential to meet your changing needs and the capacity to support your increasingly complex accounts.
With Debitoor invoicing software, you can choose between four different price plans. Our smallest plan has the essentials: invoices and expenses. This plan is ideal for the partnerships that want to keep costs down while starting out. Our larger plans allow you to create more invoices and record more expenses. These plans also offer additional features such as financial reporting and banking – perfect for business that want to get more stuck in with their bookkeeping and accounting.
If you sign up for Debitoor invoicing software, you can always upgrade to a larger plan, and you'll only be charged the difference. This means that you'll only ever pay for features that you use.