More and more businesses are choosing to use their commercial skills to benefit others. The British Government estimates that, as of 2017, there were 471,000 social enterprises in the UK – and this number is likely to have risen significantly in the last few years.
Although their missions and purposes might be quite different, social enterprises are just like regular businesses in many other ways. Not only do they aim to make a profit, but trade is their main source of income. This means that just like other types of businesses, social enterprises will regularly need to send invoices.
Whatever type of organisation you work for, the easiest way to send invoices is to use online invoicing software like Debitoor. Here's what social enterprises should look for when choosing software to help with their invoicing.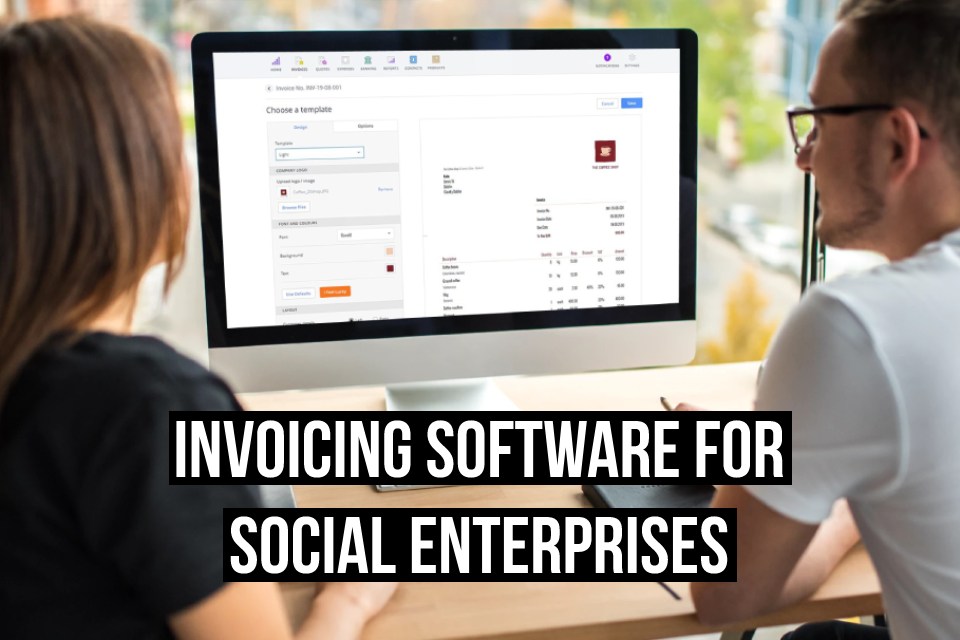 What is a social enterprise?
Social enterprises earn their income through traditional commercial channels and strategies, and any profit they make is invested in causes that benefit society, support the local community, or help the environment.
Unlike charities, social enterprises can follow any business structure, which means that any business – regardless of size or structure – can be considered to be a social enterprise, so long as their profits are invested in social causes.
Important features of invoicing software for social enterprises
When choosing software for a social enterprise, there are a few important features to look out for, including:
Invoicing
If there's one feature that's an essential part of good invoicing software, it's invoicing (obviously…). Not only should you be able to create invoices that fit your brand, you should be able to send recurring invoices and manage the entire invoicing process from within one program.
For example, when you issue invoices, these will often be sent after a customer has already accepted a quote, and you might need to follow-up with a credit note, payment receipt, or payment reminder.
Debitoor makes it easy to convert quotes to invoices; design beautiful, professional invoices, set up recurring invoices; and create credit notes, payment receipts, or payment reminders in just a couple of clicks.
Expenses
For social enterprises, invoices represent income, but the amount of money you have to invest into society, the community, or the environment depends on how well you balance your income with your expenses. Business expense tracking is therefore almost equally as important as issuing invoices, and good invoicing software will have the functionality for both.
Debitoor uses OCR technology to speed up your expense management; simply upload a picture of a receipt or invoice, and our system recognises and records the data, saving you from filling in the information manually.
Reports
Social enterprises can only invest in social causes if they're able to make a profit. It's therefore essential that your invoicing software makes it easy to check whether you're finances are on track.
Debitoor's automatic financial reporting feature takes the data in your account to generate up-to-date profit and loss reports and balance sheets – giving you an instant overview of your organisation's financial health.
Plus, Debitoor is approved Making Tax Digital software, which means that you can submit your VAT Returns directly to HMRC with just a few clicks.
Other things to consider when choosing invoicing software
While it's important to choose invoicing software with all of the necessary features, you should also consider how well different software options suit your organisation's specific needs.
Invoicing software for small businesses or large businesses?
Because social enterprises can range from large multinational corporations right down to one-man sole traders, it's important to think about how the size of your business might affect the invoicing software you choose.
For example, larger social enterprises may need more complex software that can handle complicated tax processes, payroll, and inventory management, while smaller social enterprises are often better suited to invoicing software that is cheaper, more straight-forward, and easier to use.
Debitoor is designed specifically for freelancers and small business owners, and our intuitive, easy-to-use design makes it easy to manage your invoicing and finances even if you don't have a background in bookkeeping or accounting.
Cloud-based invoicing software?
Another important thing to consider when you choose invoicing software for a social enterprise is whether you want software that you can access through the cloud or software that needs to be installed on a harddrive.
While there are still a few installable options, invoicing software providers are increasingly moving towards the cloud – and for good reason. Not only does the cloud make it easier for software providers to fix any bugs and keep the software up-to-date, there are many benefits of cloud-based invoicing software for users, such as easier accessibility and increased speed.
Invoicing software or an invoicing app?
Finally, you might want to think about whether your social enterprise is better suited to online invoicing software or a mobile invoicing app. While online software is often more comprehensive, mobile apps (such as the Debitoor iOS app and Debitoor Android app) give you the freedom to invoice anywhere, anytime.
With Debitoor, social enterprises don't need to choose. Because our system runs in the cloud, our online invoicing software is synchronised with our mobile apps, meaning that you can access your account from any device.