We often get asked about the differences between the mobile and online versions of Debitoor. In this blog post, we take a look at the ways our different platforms complement each other, as well as how you can get the most out of your invoicing software from any device.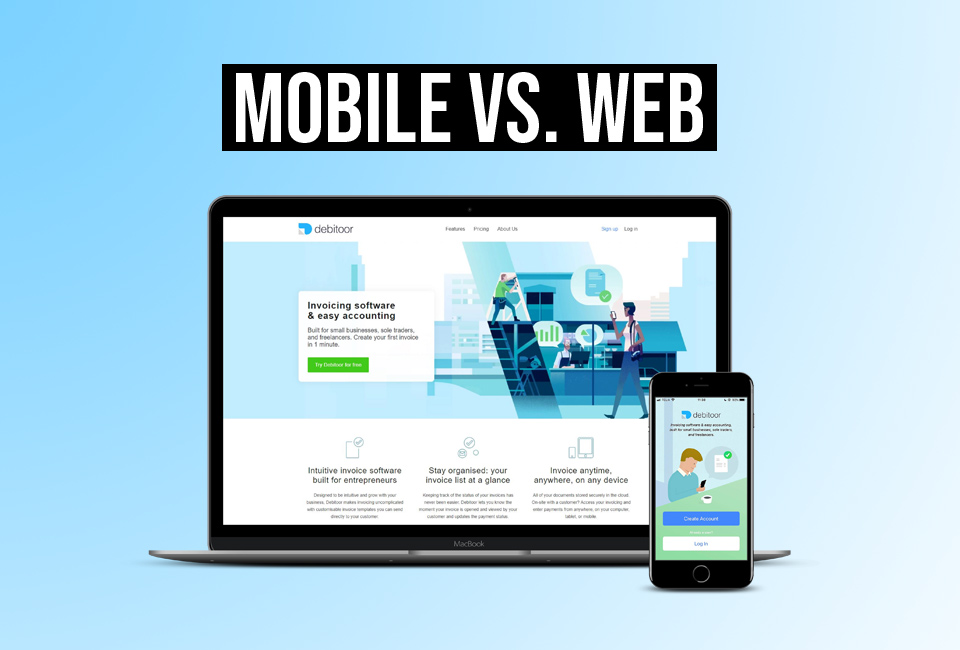 Do I need a mobile app or online software?
As a freelancer or entrepreneur, you'll often be working on the go. And because running a company isn't a 9 to 5 job, it's essential to have the tools you need to manage your business anywhere, anytime. On the other hand, it's important that your apps and software are efficient and intuitive. This is why we've designed our mobile apps to complement our online software.
The Debitoor web app is an an easy-to-use invoicing and accounting program that helps you keep on top of your company finances, while the Debitoor Android app and Debitoor iOS app are much more streamlined. They don't offer the exact same functionality as the web app, but they do make it quick and easy to carry out the most important, day-to-day tasks. By using a combination of our online software and mobile apps, you have access to the features you need in the best possible format.
Plus, because Debitoor runs in the cloud, your data is automatically synced across all of your devices. If you create a new invoice from your phone, it will be instantly available when you log in to your account through a web browser.
Advantages of a mobile invoicing app
Available on both Android or iOS, our straightforward mobile apps are the ideal tool for managing your business on the go. With the Debitoor mobile apps, you can use your smartphone or tablet for:
Easy invoicing in less than a minute.
Recording expenses with OCR technology. All you need to do is take a photo of a receipt or invoice – the date and amount of your expense will be filled in automatically.
Creating and sending quotes.
Managing customers. Get an overview of outstanding invoices or send a customer account statement.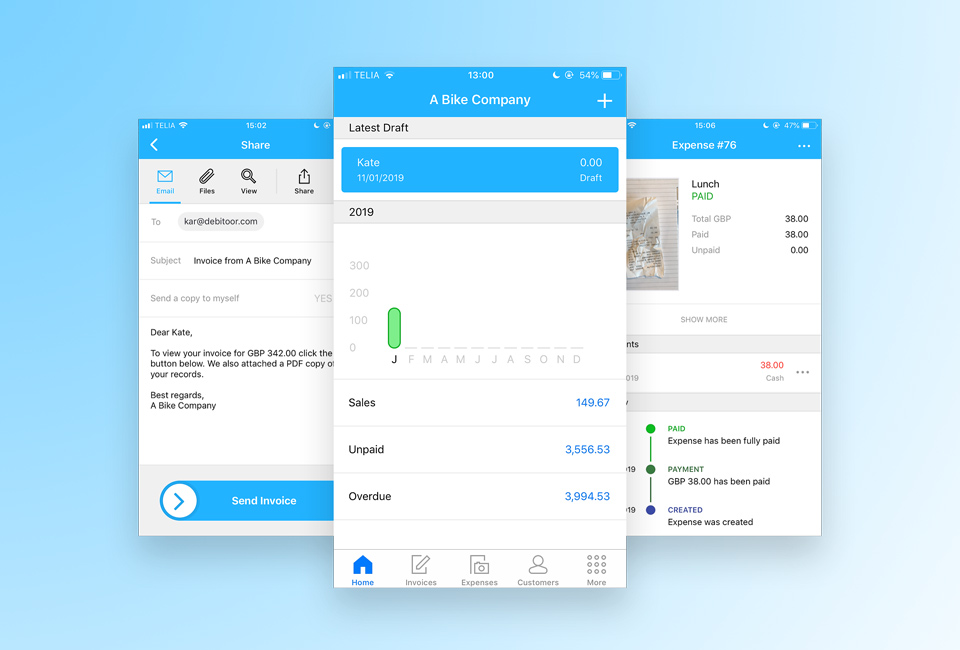 Mobile invoicing apps are particularly helpful for business owners who are often on the road or for freelancers and entrepreneurs who don't like to be tied to their desks. Our mobile apps give you an instant overview of your income and expenses, let you send urgent documents without a computer, and give you the freedom to stay on top of your invoicing from any location.
Try the Debitoor Invoice & Quote App now: download it from the App Store or get it on Google Play.
Advantages of online invoicing software
The Debitoor web app is our original platform, which has some additional features that aren't available on the mobile apps. It's still easy to create invoices, quotes, and expenses, but you can also carry out tasks such as:
Banking and automatic reconciliation. Simply upload a bank statement to match transactions with invoices and expenses.
Creating financial reports. Whether you need a VAT Report, Profit & Loss Statement, or a Balance Sheet, you can generate reports in seconds.
Importing and exporting data. Download all of your invoices, a list of your customers, or your payment history in just a few clicks. Or upload data from another accounting system.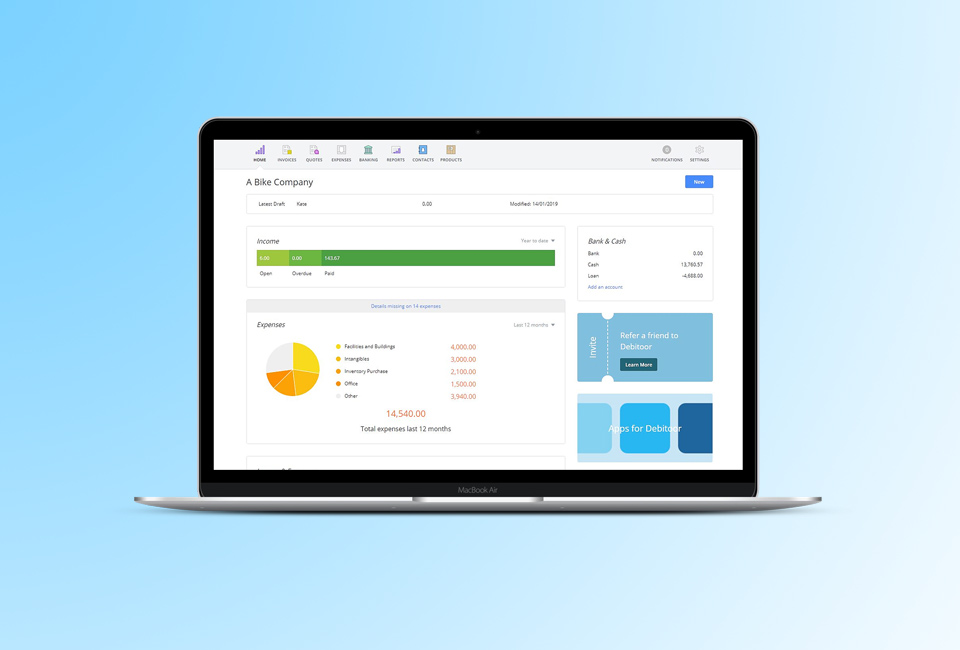 With these additional features, the online web app empowers small business owners to manage their own bookkeeping and accounting. Designed specifically for freelancers, sole traders, and entrepenuers, our online invoicing software helps you take control of your finances – even if you don't have experience with accounting
We regularly make updates to both our online web app and our mobile apps for iOS and Android, so stay tuned for more functions and better features across all of your devices.