Are all invoice templates created equal? Each day there are countless numbers of people searching for 'invoice template' online. Try yourself - when you search for it in Google, you get over 6 million results!
The number goes down a bit when you make the search more specific: for example adding 'Word and Excel' to the search. This narrows your selection down to just 2.5 million. Still a bit of a feat trying to find the right one.
So what is an invoice template, anyway?
An invoice template is a layout that makes it simple to replace our details with the default, stock information. By providing the necessary fields in the invoice, it makes it easy to fill in your company and customer details, and information about the product or service you're selling.
An invoice is the bread and butter of every freelancer and small business, and directly results in your getting paid. It's the only way to make an income. Legally, anyway.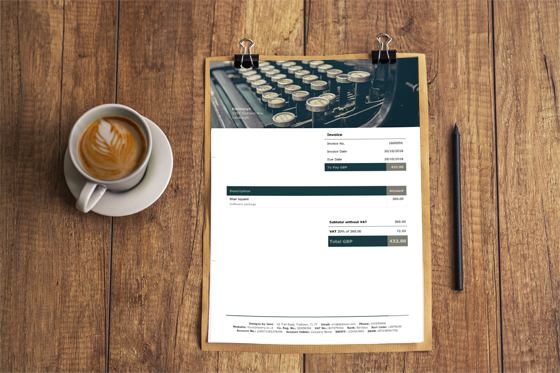 A professional invoice template must, however, follow certain requirements as outlined by gov.uk (you can find the details on their website). In Debitoor, we've used these requirements when creating easy-to-use invoice templates.
At the risk of seeming repetitive (and because Google penalises duplicate content), I'll simply sum up the required content for a professional, legal invoice:
Title. The invoice must clearly be marked as an invoice.
Dates. The date the invoice is issued as well as the payment due date.
Invoice number. A unique number in your invoicing sequence.
Your company information. This means your company name, address, and contact details. If you're a sole trader, you'll also need to provide your name and any company name you're operating under.
Your customer's information. Name/company name and address.
Product/service details. A detailed description of what you're selling.
The price. Per unit and subtotals before tax.
VAT. If applicable (read more about VAT here).
The total. The total amount owed to you by your customer.
Now, what to do with this information? Open a Word or Excel document and try your best to adjust the formatting to appear professional?
Unfortunately, that can get a bit messy. Especially when we know there are simpler solutions.
Word and Excel invoice templates?
In the latest editions of Word and Excel, you have the option of using their preloaded invoice templates. These are all well and good if you just need to write a couple invoices, send them, and are done with it.
But if you're looking for a more professional, fast, and easy solution, Word and Excel are not ideal.
Not to worry. There is life beyond Word and Excel.
Why use an invoice template in invoicing software?
While the answer may seem obvious, there are a few additional things you might like to know:
It's simple and tidy. Invoice software simplifies the entire process. From invoice creation to sending, tracking, and entering payment. In addition, all the fields must be completed, ensuring that you enter all the necessary information.
It's automatic. Invoicing software automates the invoice creation process. There's no need to configure anything, make any calculations, or otherwise. It takes care of that for you.
It's professional. Many invoicing programmes allow invoice customisation and design. This means including your company logo easily and giving your invoices a personal touch to promote your brand and stand out from the competition.
Reduces errors. Since there are required fields and automatic calculations, you really need to make an effort to make a mistake in invoicing software.
It's in the cloud. Which means you can invoice or manage your accounts at any time, from any device. All you need is an internet connection.
Convinced yet? At Debitoor, we've made it a priority to make it easy for you to create professional invoices fast using our invoice templates. Give it a try for free. No need to waste time trying to make invoices with Word or Excel.