Ever created an invoice, converted it to PDF, then suddenly realised a small but glaring mistake? Tried to go in and correct it? Then you have some idea of how difficult it is to edit a document in PDF format without an original in Word or Excel, for example.
While PDF is one of the main preferred format for documents such as invoices (precisely because of the impossibility of tampering with the details without starting from scratch), it can truly be a pain for small business owners who have already spent time and effort creating an invoice from a Word or Excel invoice template.
More flexible PDF invoices
Thankfully, invoicing software such as Debitoor provides a more forgiving approach to PDFs. First, by making it simple to convert an invoice template to PDF format. In fact, it takes only one click once you've filled in the required fields of your invoice template.
You can even create a PDF of a proforma invoice to send to your customers. For both draft and complete invoices, you can send them in PDF format directly from your Debitoor account or download them with a click.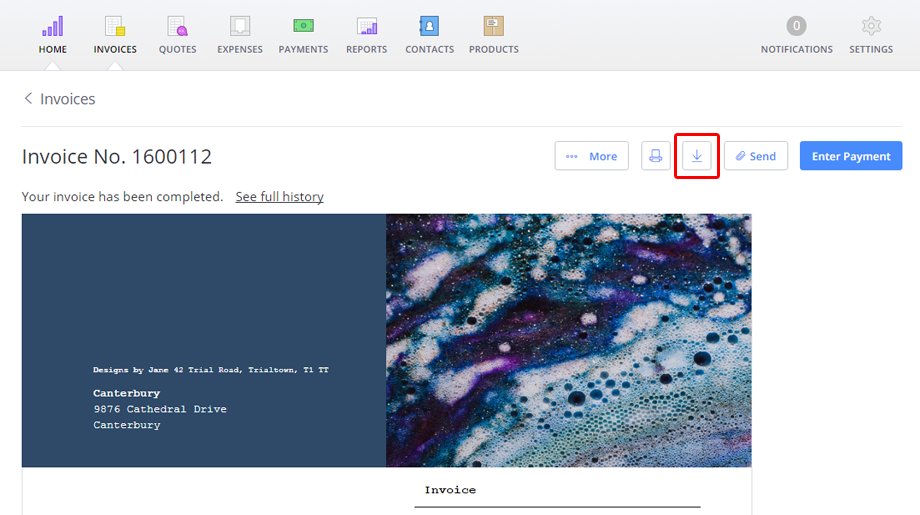 Notice an error after you've downloaded or sent the PDF? If you haven't sent the invoice from your Debitoor account, you can open the invoice, click '...More' and choose 'Edit' to make corrections before downloading the PDF (again in just in click).
If you have already sent an invoice with a mistake, it might be necessary to issue a credit note on the invoice and create a new one. Thankfully, that entire process is also fast and easy so you don't need to waste time on tedious Word or Excel templates.
Download all invoices as PDF
If you need to print off all of your invoices when it comes time for tax filing, or if you simply prefer having copies saved to your hard drive as well (although, the cloud is the safer option for storing your data), you can export them easily.
In Debitoor, you can select a date range, category, and format for data export to your computer. Whether for printing or storage. With invoices, you can also export the PDFs of your invoices for the period you select, instantly and directly to your computer.
Simply sign in to your account, click 'Settings' in the upper right corner, select 'Settings' from the dropdown menu and click 'Account'. Scroll down to the 'Export Data' section and choose your date range. You only need to check mark next to 'Include attachments' below the category field where you've selected 'Invoices' before hitting the 'Download' button.