As soon as you need to start invoicing, you're likely faced with the question of how you will go about it. Traditional software like Word and Excel will probably come to mind, but also these online invoicing programmes you've been hearing about. How to choose, how to choose.
A quick google search reveals plenty of Word and Excel invoice template downloads online. But there's a reason that people choose online invoicing software instead. In this article, we'll outline why it's a better choice.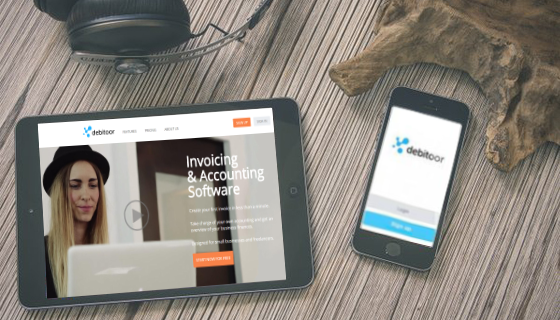 1. Your invoice is always up-to-date
Online invoicing software has the distinct advantage of being updated constantly. This means that they are aware of any changes to legal requirements regarding invoices and update the software immediately to adhere with anything new.
If you use Word or Excel invoice templates, you'll need to do the research and update the templates yourself, as the free versions found on the internet, while they can look good, are rarely (if ever) updated accordingly.
2. Reduce the chance of mistakes
When you fill in a downloaded invoice template, you must enter all the information manually each time. This opens a fairly large chance for making errors - from typos in contact information to getting the price wrong for your products.
Online invoicing software automates processes like invoices numbers, correctly numbering each new invoice according to your sequence and auto-filling your company and product details.
3. Create invoices faster
Time is money. And as an entrepreneur, you certainly have more important things to do than spend hours working on making sure your invoices are beautiful, correct, professional, and meet the current legal requirements.
If you use invoicing and accounting software like Debitoor, you can create a new online invoice in less than a minute. How? We've automated the most time consuming elements of the invoice by adding quick drop down menus that add your customer information and product details with just a click. Price and VAT? Calculated automatically.
Once you're done, complete your online invoice and it's ready to send to your customer.
4. Beautiful, professional design
If you want to come across as a professional to your customers, it's important to present invoices that are not only clear but also express your brand. Word & Excel templates quickly test your patience to the extent that beyond adjusting text alignment or line breaks is not an unthinkable.
Online accounting software makes it easier to design your invoices. In Debitoor, you can choose between 6 professional invoice templates and can of course upload your logo and your own photos.
5. Maintain an overview
If you only have a few invoices each month, it's easier to stay on top of which have been paid and if any have overdue or missing payments. But as business and number of invoices increases, the numbers can quickly add up.
Online invoice software like Debitoor give you a clear invoice list that include date of issue and due date for each invoice, alerting you as soon as a payment is overdue and allowing you to take action by sending a reminder immediately.
6. Your customers pay faster
An online invoicing and accounting programme offers an additional benefit: the option to add and link in online payment options such as PayPal. This makes is easy for your customers to pay you online as soon as they receive your invoice. The result? You get paid faster.
7. Quotes - Invoices - Reminders and more
With online invoicing and accounting software, you can do a lot more than just create and send invoices. Create and send quotes, delivery notes, and reminders. Enter expenses and manage payments as well.
Instead of adjusting the details each and every time in a Word or Excel template, in Debitoor, you can simply convert an accepted quote to an invoice and instantly convert it to a delivery note or issue a reminder.
All saving you time and hassle.