Are you among those who spend time tracking which customers still owe your company money? It could be because you have some particularly forgetful customers. But it might also be customers attempting to avoid payment for your product or service.
In either case, there are a few things you can try in order to provide a bit more incentive for paying your invoices on time and in full.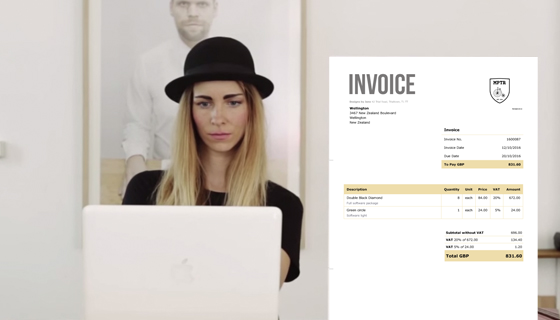 Here's 7 tips to get you started:
1. Create and send online invoices. By using online invoicing software, you not only make it easy to make invoices quickly and send them immediately, but your customer gets your invoice faster which gets you a big step closer to getting paid.
Say goodbye to the hassle of printing them off, folding them just right for the envelope, and hoping they arrive in a timely manner at the correct address.
Debitoor online invoice software makes it easy to create and send invoices online fast.
2. It's all in the details: keep important information in mind when creating your invoices. It may seem obvious but if you want to be paid quickly, then make sure each invoice you create includes all the pertinent, correct details.
If all the necessary info is present and correct, it makes the process much faster than if the customer has to request a new invoice or complain, meaning you have to cancel the invoice and issue a new one.
Instead, make sure your invoice includes the requirements for an invoice from the start to speed things along.
3. Don't forget contact and payment information. Let your customer know exactly how to pay you. By making it clear and simple, you make it easier for them to pay.
Imagine receiving an invoice that had no banking details or instructions on how to make the payment. Your reaction would likely be to set it aside and worry about it later. Or forget about it completely.
Prevent this from happening to you by offering your customers detailed information about how to make payments and include a phone number so that they can contact you quickly with any questions.
4. Try offering a cash discount. A powerful tool, the cash discount. Usually a discount of 3-4% to customers who pay the invoice within a certain period. Especially for orders with higher totals, this can be a great incentive for customers to pay quickly.
Offering a cash discount offers customers a clear benefit to paying your invoice faster.In Debitoor, you can use the 'Note' or 'Terms' field to provide a cash discount option.
5. Specify payment periods. Like a cash discount, this isn't a requirement, but can be a useful option. Although your invoice is payable immediately, by giving your customer 3-4 weeks for payment, you show flexibility while also give them a deadline.
It's easy in Debitoor: you can select a payment period for each invoice in just one click.
6. Offer online payment options. Are you one of the remaining few to pay all your bills through bank slips? Probably not. It's much easier to manage your payments online.
It's the same for your customers. The easier it is to pay your invoice, the more likely they are to pay faster.
When you create an invoice, it's therefore usually a wise choice to include an online payment option.
In Debitoor, you can choose to connect your account with PayPal or SumUp and your customers will receive the payment link right there within the email with your invoice.
7. Check up on payments. If your motto involves something along the lines of: 'they'll pay me at some point', you may want to reconsider your motto. Unfortunately, not all people are that reliable. Forgetfulness is a common malady in the payment world.
It's therefore good practise to check up on your payments weekly, so that you are ready to send a reminder letter and get closer to payment.
With Debitoor, you will notice invoices with overdue payments immediately (the due date turns red) and you can create and customise a range of different reminders and send them to your customer.