What is the main benefit to offering an online payment option direct from within your invoice? Many will cite the speed of payment. Others might mention the high levels of security. Some might also suggest the ease of use. All would be correct.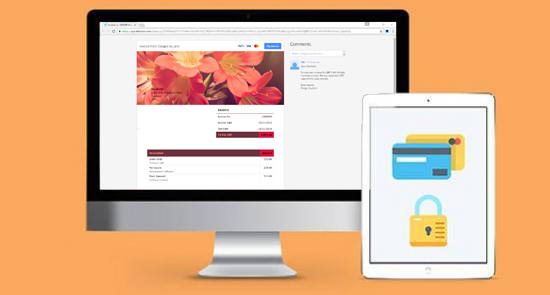 Today, while online payment is not available everywhere, it is more and more commonplace. For freelancers and small business owners it's an especially useful option that adds a level of professionalism and reassurance for your customers.
There's an added benefit for you as well. With Debitoor invoicing software, we've found that users who offer their customers an online payment option get paid 10% faster than those who don't.
How does online payment work with online invoices?
Since we've talked a fair bit about the importance of professional invoice templates in other blog posts, but these have only mentioned an important advantage of an online invoice: the opportunity to add an online payment gateway.
It's just not an option with Word and Excel invoice templates, because, as we've probably mentioned previously, invoices created with Word and Excel can be very restrictive and time consuming.
However, online invoicing software can change that by providing easy-to-use invoice templates, complete with an online payment option.
Upon receiving your invoice, your customer can pay you instantly through an online payment option. Effectively removing some of the more common barriers to getting paid as a freelancer or small business owner (lost invoices, complicated and lengthy bank transfers, cheques, etc.).
By offering online payment options, you create a very important advantage: making it simple and fast for your customers to pay.
Online payments and your online invoice
At Debitoor, we're committed to giving our users the latest in invoicing and accounting technology and features. This means also providing them with the latest in offering to their customers.
If you've used Debitoor, you'll have seen that each invoice sent out offers an immediate option for payment and will take the customer to the online payment method you've selected: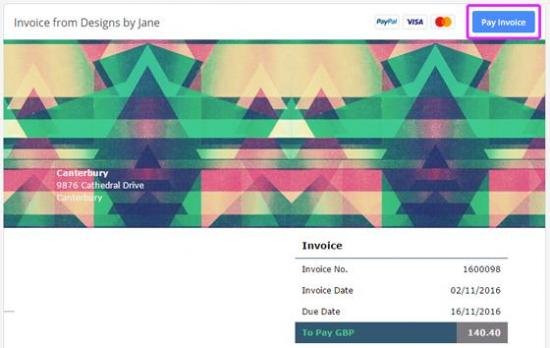 These small logos across the top of the invoice are more than just for decoration. They indicate to your customer that they can choose to pay your invoice via PayPal or by credit card when they click the link provided.
But with Debitoor, you can decide which online payment option is best for your business and your customers. We also offer payment by credit card or debit card with SumUp.
To get started with one of these online payment options, log in to your Debitoor account, click 'Settings → Receive Payment' and connect to your preferred online payment solution in just a couple of clicks.