Are you a fashion blogger, or would you like to become a fashion blogger? This article will give you all the insights for how to manage your invoicing and accounting as a blogger.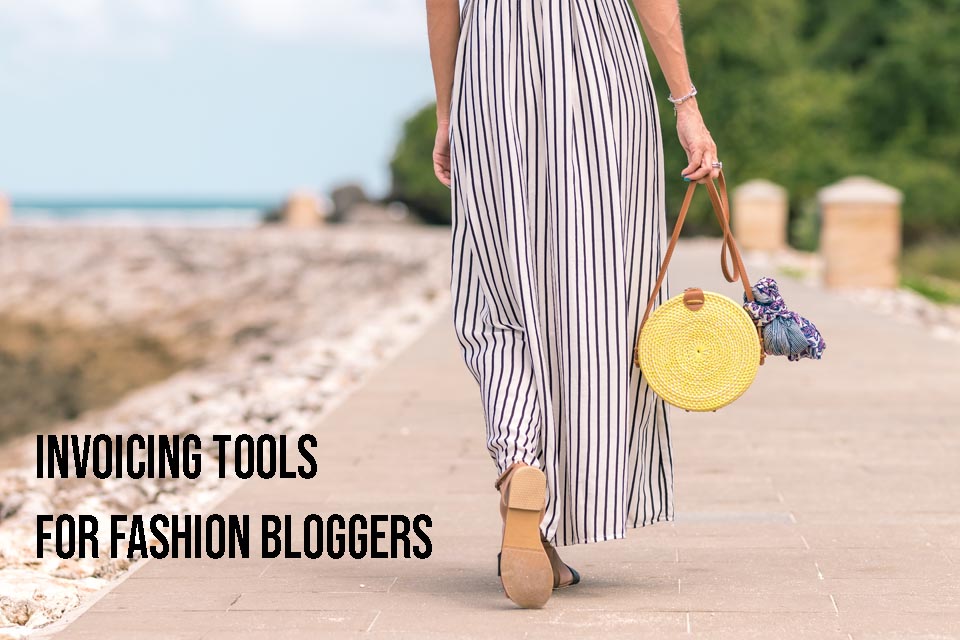 Blogging is quickly becoming one of the fastest growing careers both now and in the future. Bloggers use the Internet to share their experiences, opinions, tips, and to discuss broad and varied topics.
Bloggers that have a large follower base or audience are often contacted by other brands or and businesses regarding collaborations, partnerships, or sponsorships.
These partnerships are a marketing tool which businesses use to increase their brand visibility to potential customers. Furthermore, these partnerships also allow businesses (or individuals) to test their products and services through bloggers, and reach a wider audience.
It is important that you, as a blogger, are aware that once you receive income you must declare it to the tax authorities. In order to do this, you have to create a company or become a freelancer, and therefore be able to generate invoices and quotes.
Getting paid as a blogger
Although a lot of blogger partnerships and collaborations are be free, it is becoming more and more common for bloggers to get paid to share content on their blogs, websites, or social medias.
If you are making money on your fashion blog - big congratulations!! That is a huge achievement, and also shows that you are on the road towards becoming a small business.
Getting paid as a blogger will vary depending on you and your relationship with your bustomers amd clients. Some businesses will be satisfied with merely an email agreement, whereas others will request a full and detailed invoice.
As a fashion blogger, it is your responsibility to encourage your clients to pay you - especially if blogging is your main source of income. One of the most useful and effective tools for freelance bloggers or sole traders is to use an invoicing system that represents you and your business.
Here are a few tips on how to make invoicing an effective part of your blogging business:
Be clear
Always create a written agreement between you and your client which clearly states the number of posts, rate, and period you have agreed on.
Design professional looking invoices
Your invoices should be a reflection of your style and your business, and should follow a constant and concise layout.
By using an invoicing software you can create invoice templates which will save you the time of creating new invoices from scratch each time.
You can also customise the design of your invoices to fit your brand, and set up recurring invoices for cases when you invoice a client for the same amount and details every month.
Invoice your customers in the currency which they normally work with
This makes the invoice more user friendly to them, and you will still be able to convert it to your home currency.
This is a feature of many invoicing softwares, so if you are invoicing international customers then make sure to use a software that allows you to invoice in multi currencies.
Ease the process
Make sure your invoices are easy to open, read, and allow your customers to pay quickly and easily through online payments.
There are a variety of different online payment options which you can also sync with your invoicing software to automatically match payments. The easier your make it for your customers to pay you, the quicker you will get paid!
How an invoicing software can help you as a fashion blogger
As a freelance fashion blogger, some days you might be overflowing in work, where other days will be very still and quiet. During those busy days, it can be so easy to forget something - especially if you are working on the go and going from one place to another.
An invoicing software such as Debitoor is a useful tool for you to ensure that you will not forget something important - you are able to invoice from any device, anywhere, anytime! You can even invoice from your smartphone.
In addition to this, you can also record any expenses merely by scanning the receipt using your smartphone thanks to the OCR (Optical Character Reader). How it works, is that the system reads each character from the receipt (date, price, VAT etc.), and converts them into raw text which can then be edited. This will automatically be recorded as an expense in your accounts.
By using an invoicing software, you as a fashion blogger will have more time to focus on marketing your blogging talents and create engaging content.