Are you self-employed and creating invoices with Word? Using Word invoice templates is the first solution that many freelancers turn to when first starting out. After all, it's free, seemingly simple to use and customisable.
Add in a quick Google search and you'll find hundreds of thousands of results for Word invoice templates, giving you even more options for creating an invoice that suits your business...if you're willing to slough through endless variations, taking care that your selection works with your current version of Word.
Ok, so you're willing to put the extra work in because, well, it's free. But is that the right decision for the growth of your business? To use Word templates instead of online invoicing software designed for freelancers like Debitoor?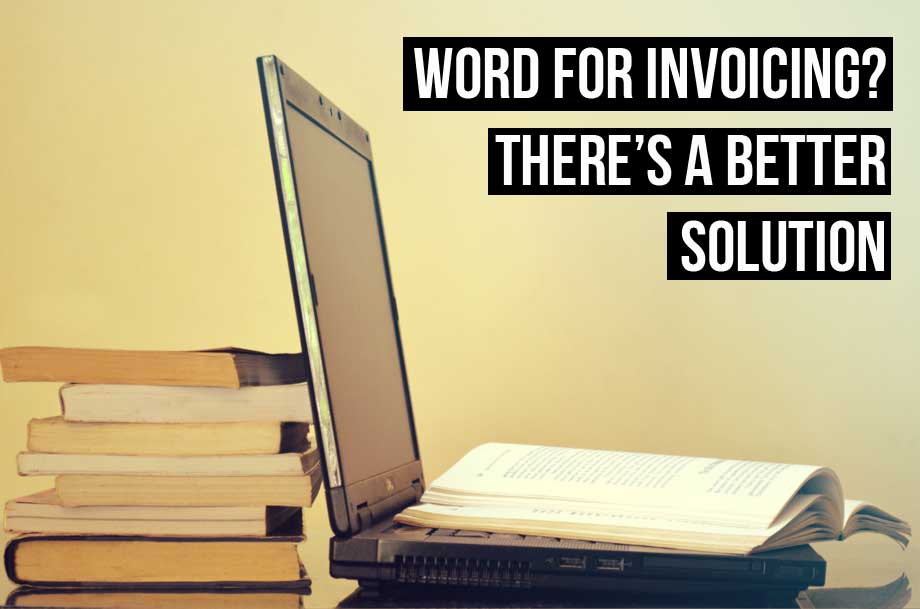 Let me put it a different way:
1. Are your Word invoices organised?
Let's say your Word software is all up-to-date, and you're ready to go, having found an invoice template that works for your company. Great, right? Well, maybe a bit early to be too pleased - you'll likely find that you'll need to do all the calculations (including VAT) by hand.
Once you've done that and your invoice is completed, you save it to a folder on your computer. Let's say we call the folder 'Invoices 2016', and each invoice you create is saved to this folder. You can then search through when you need to find an invoice, attach it to an email, then send it to your customer.
If that enough organisation? With online invoice software like Debitoor, your invoices are automatically saved to a list that can be sorted by invoice number, customer, due date, payment status and more.
The invoice templates contains all the fields you need to create an official invoice, and adheres to the latest legal requirements. No to mention the ability to upload your logo and customise your invoice design.
And, there's no need to worry about having the right invoice number - it's generated automatically to match your unique numbering sequence each time you complete an invoice.
2. Are your Word invoices professional?
Some Word invoices do have a quite professional appearance. But is this all it takes to create a professional-looking invoice? Or is there something more to it? You want your invoice to be personalised and reflect your brand. You also want to ensure that your invoice meets the legal requirements.
With Word, you're never quite sure if you're getting it right. Invoicing software like Debitoor takes the guessing out of creating professional invoices. You know that your invoice meets legal regulations, and you can easily upload your logo, choose a custom colour scheme, and even select your choice of font!
This and more will help your business stand out from the competition (Check out '5 reasons to custom design your invoices. And it's fast and simple with Debitoor.
3. Is the VAT calculated correctly on your Word invoices?
So you've found your Word invoice template, filled in your customer, company, and product details. Now time for the tedious part - calculating the VAT, subtotals, and total. But where is the section for VAT?
It's likely that you haven't found it. This is because most Word invoice templates don't even include a VAT field, not to mention help you with the calculations. So it's time for you to do some research to ensure the VAT is placed and calculated correctly. What a bother.
Not only is this a massive waste of your time, it's also a legal concern. Word invoice templates are not kept up-to-date when it comes to invoicing regulations. While the templates can be useful for some purposes, they're not ideal when it comes to tax.
There is a way to avoid the tax concerns, as well as the time-consuming research into invoice legalities and VAT calculations: invoicing software like Debitoor. In Debitoor, you can always be sure your invoice meets the most current regulations, and all calculations are done automatically.
4. So how can you escape from Word invoice templates?
Easy. Online invoicing software like Debitoor. Because it's designed specifically for sole traders and small businesses, Debitoor makes it easy to quickly create, customise, and send professional-looking invoices in just 1 minute.
We think that invoicing should be simple. Much simpler than entrepreneurs experience with Word invoice templates. That's why Debitoor invoicing software aims to make it fast and easy to issue invoices, giving you more time to run your business, and the tools to help it grow and thrive.