As 2018 draws to an end, many of us are starting reflect on what we've achieved over the last year. For Debitoor, 2018 brought many new features, plenty of updates, and a lot of growth. Here, we take a look at what the past 12 months meant for us, as well as what 2019 has in store for your invoicing software.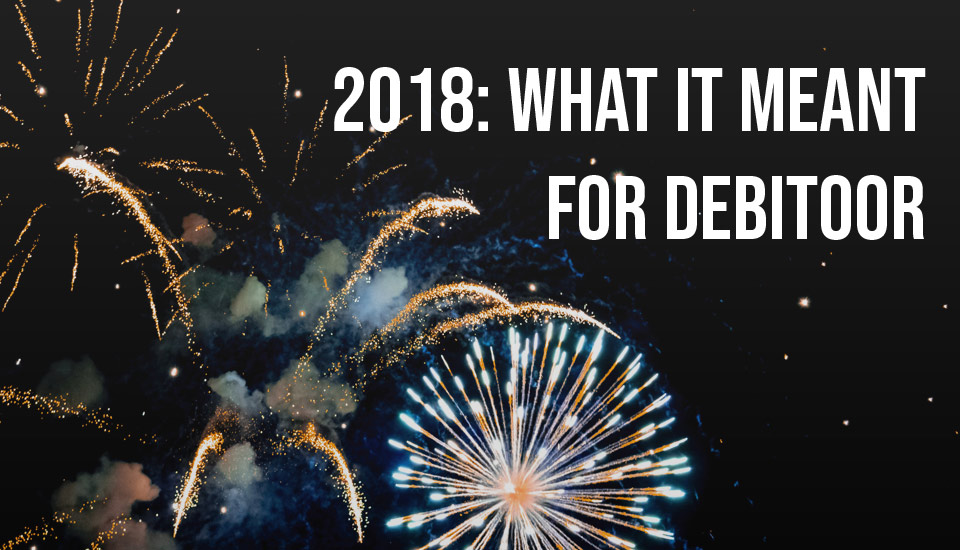 New and improved invoicing apps
For 2018, one of our main priorities was to offer fully-functioning mobile apps that give freelancers and sole traders the tools to manage their businesses anywhere, anytime. Throughout the year, our developers have been working hard to bring the Debitoor apps up to scratch; not only did we (finally!) launch the brand new Debitoor Android app, we also rolled out some major new features for both Android and iOS, including:
The new Debitoor x SumUp integration. Your customers can now pay instantly and directly via a SumUp card reader. Their payments are then recorded automatically in your Debitoor account.
Better usability on tablets.
An upgraded 'Customers' section that gives you more control over communication with your clients, as well as the option to view account statements.
Better search and filter options. It's now easier than ever to find a specific invoice or expense.
New banking functions on your mobile that help you reconcile payments on the go.
Plus lots of useful options that let you change the language of your invoices, attach PDFs to your expenses, send yourself a copy of each invoice, and much more.
Data protection and GDPR
Back in May, the General Data Protection Regulation (or GDPR) was rolled out across Europe. At Debitoor, we put a lot of work into making sure that our data handling process is GDPR-compliant and that both Debitoor users and visitors to our website have the highest level of protection, as well as more control over their personal data.
Out with the old, in with the new (logo)
Over the past few years, Debitoor has evolved into a company that empowers small businesses through intuitive and uncomplicated invoicing software. While our old logo served us well, we felt that it was time for an upgrade and a logo that reflects the evolution of the Debitoor brand. We therefore came up with this new design that acknowledges our history and embraces what's yet to come:

Better billing
One major project that users probably won't have noticed was the implementation of a new subscription billing system. Undertaking this project was no mean feat, but we believe that our work paid off - the new system opens the doors for a better range of payment options, as well as an improved flow.
Empowering small businesses around the world
In 2018, Debitoor didn't just get better - we also got bigger. Since the start of 2018, we've launched in a number of new countries, as far and wide as Estonia, the USA, and the UAE. Now, Debitoor is localised for over 60 countries in 6 continents (sorry Antarctica…), and we expect to grow even further in 2019.
What to look forward to in 2019
In 2019, the UK will see a major change in the way company taxes are handled. The Making Tax Digital initiative is designed to make tax returns more effective, efficient, and easier to understand. Over the next few months, we'll be working hard to make sure that UK-based businesses can submit their VAT returns straight from their invoicing software.
We'll also be continuing to make regular improvements to our web and mobile apps, so stay tuned to find out what 2019 has in store.